Prices available On-Line or In-House

Bite-size savoury fritter made of fresh squids served with tartar sauce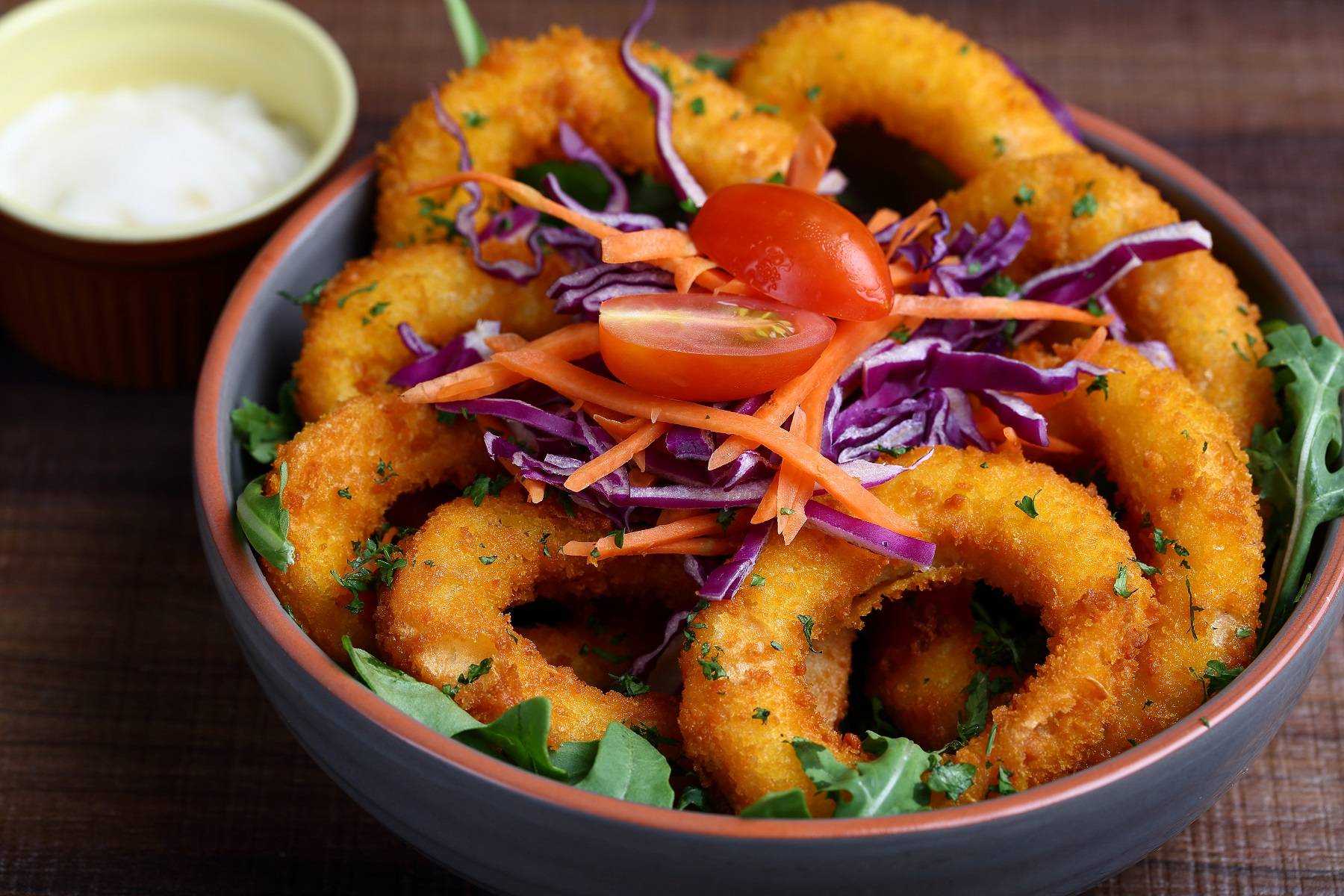 Steak-cut fries with a truffle creme dip.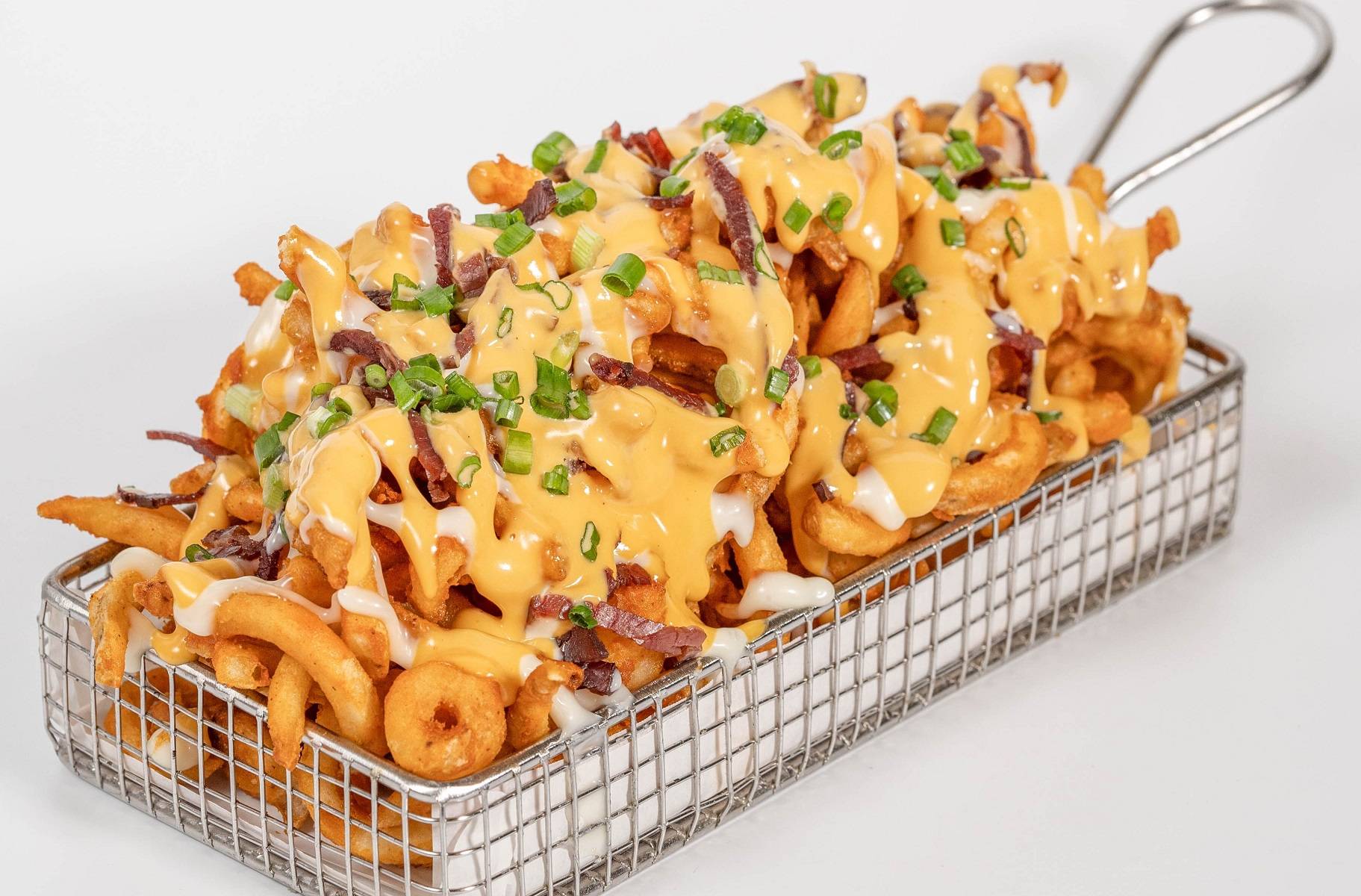 NOOSH BALINESE SAMBAL SCALLOP

Starter Dish for Scallop Lovers, topped with Cheese and balinese sauce.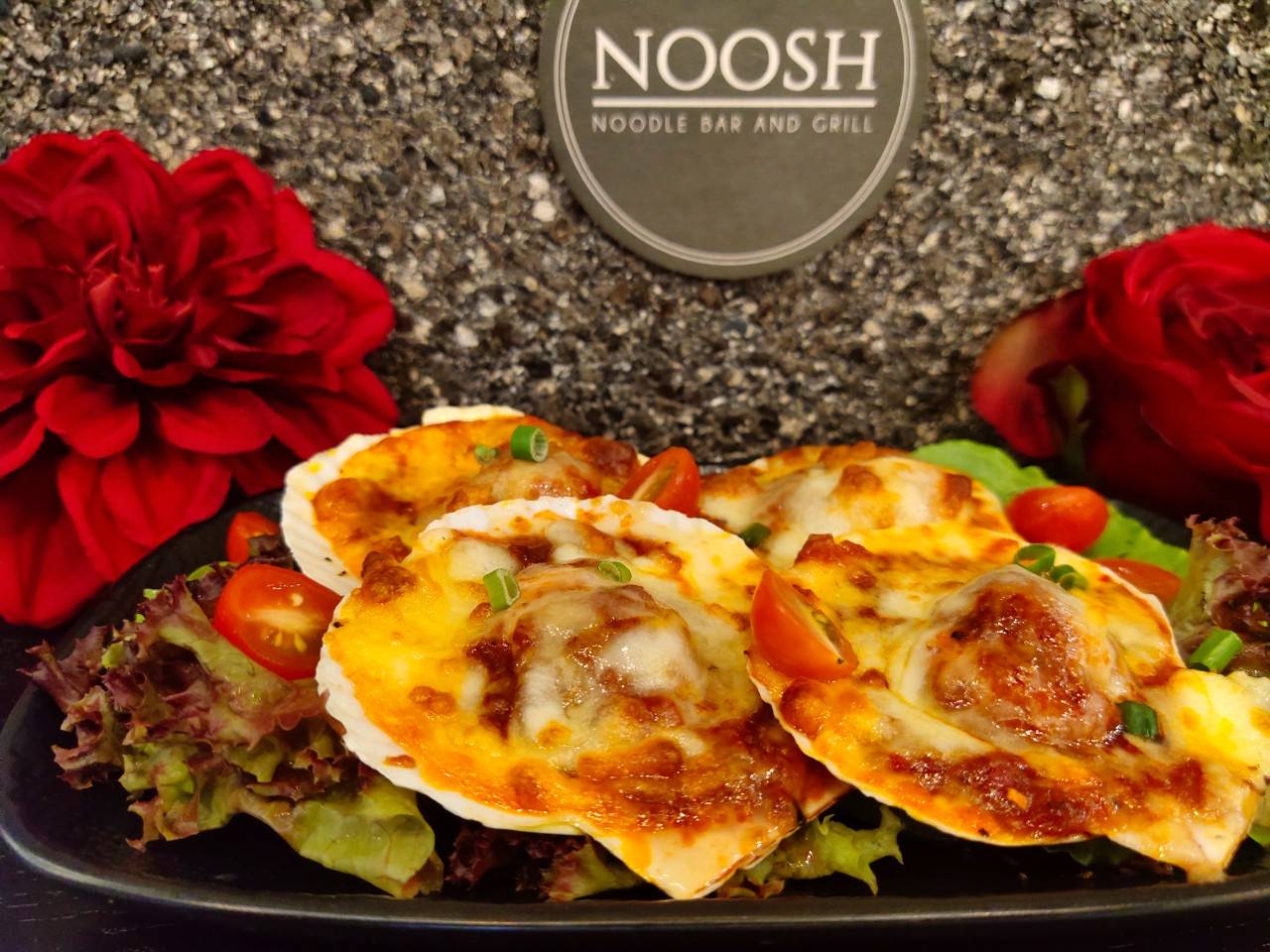 ½ dozen duck satay, peanut sauce, soft rice cake, fresh cucumber and onions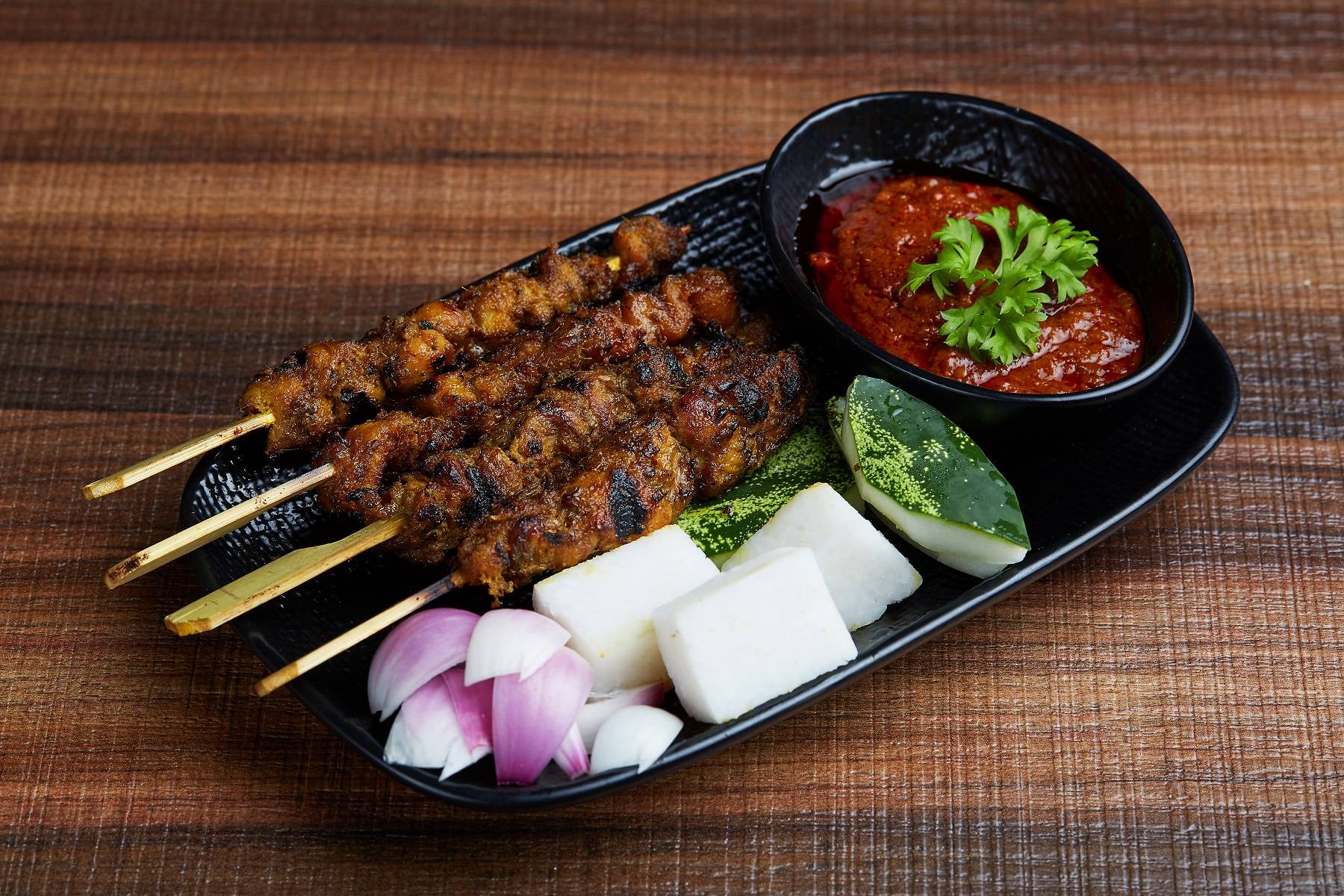 CURLY FRIES WITH BACON AND CHEESE
Curly fries, nacho cheese, mayonnaise, beef bacon and fresh spring onions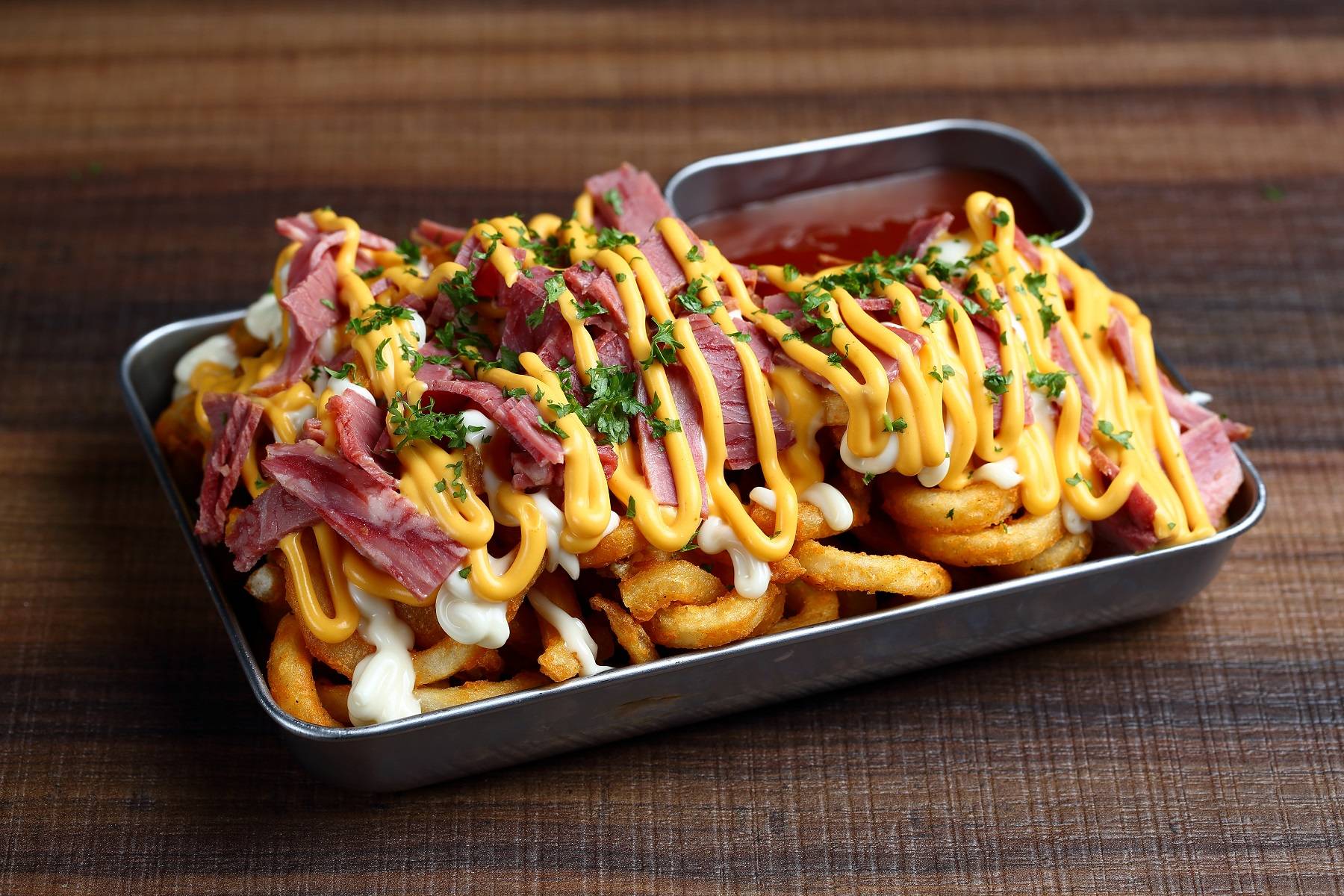 CHICKEN SRIRACHA WITH CHEESE
Fried boneless chicken in fiery sriracha sauce, mozzarella cheese and mayonnaise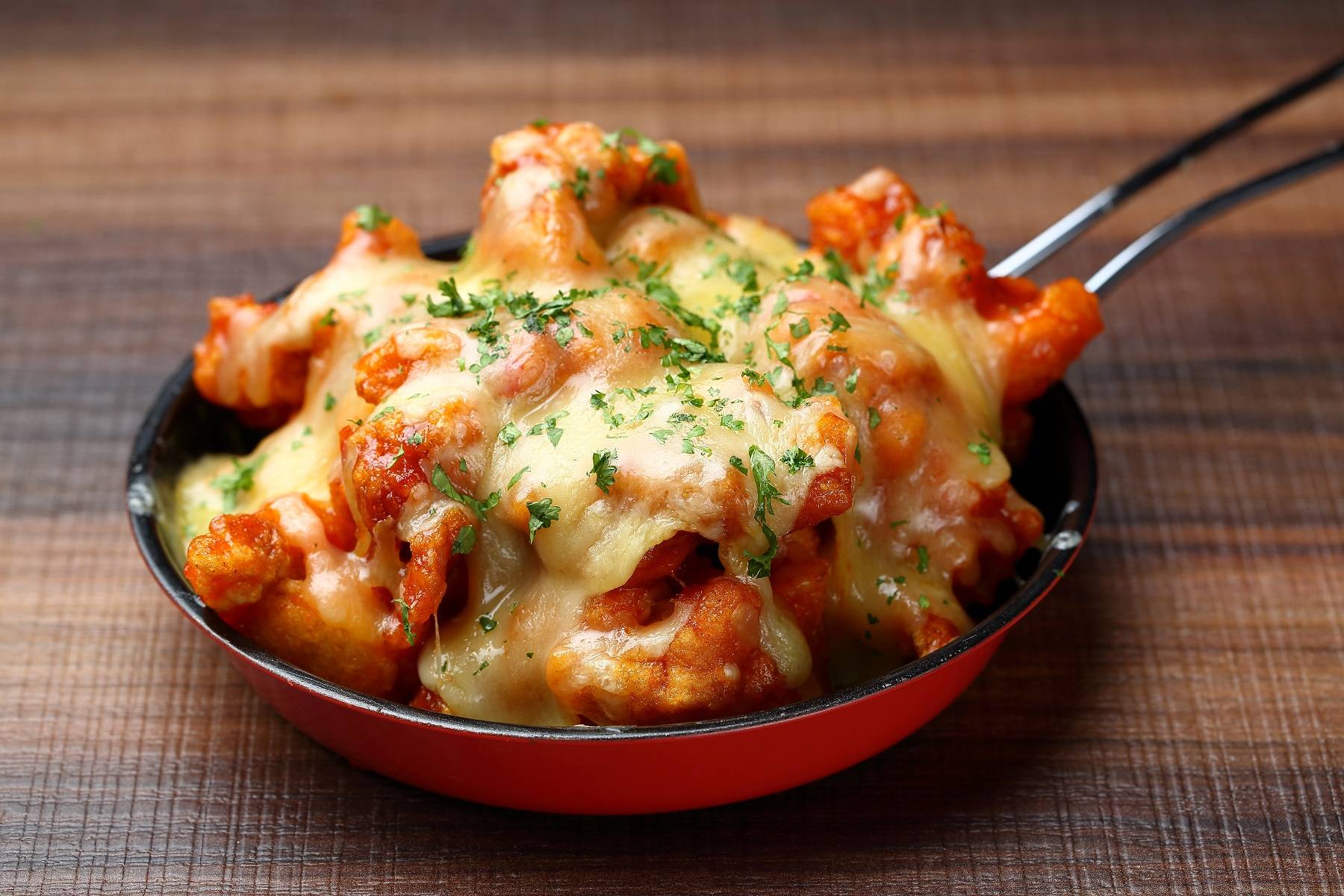 NOOSH GARLIC CHEESE BREAD

Bakery Baked Bread Garnished with Garlic, Butter and Cheese.

½ dozen duck satay, peanut sauce, soft rice cake, fresh cucumber and onions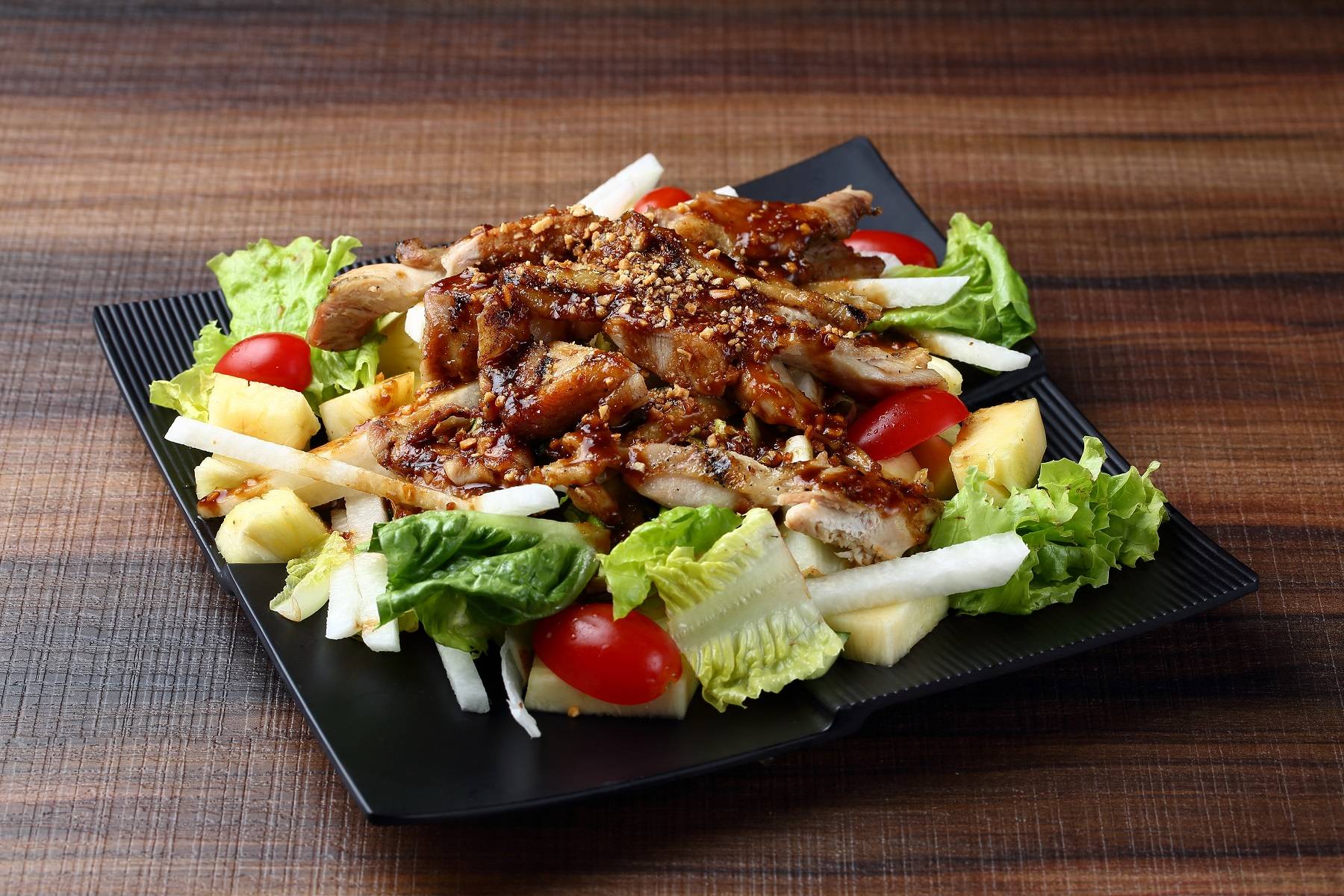 Truffle mushroom bisque with beef bacon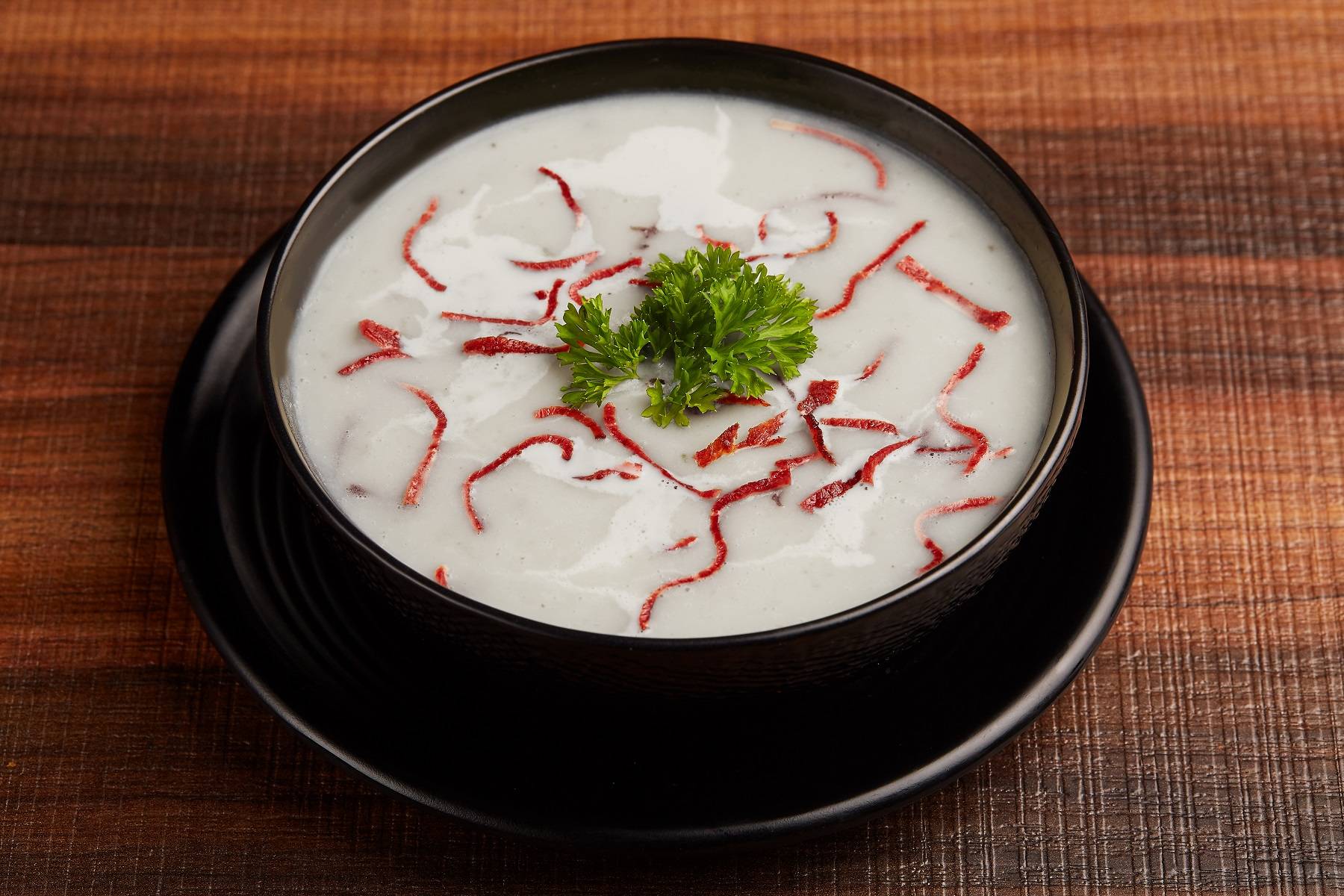 SAMBAL BALI CHICKEN CUTLET
Chicken cutlet is served with Ummi's mum's signature Sambal Bali, topped with mozzarella cheese and a side of curly fries - best seller!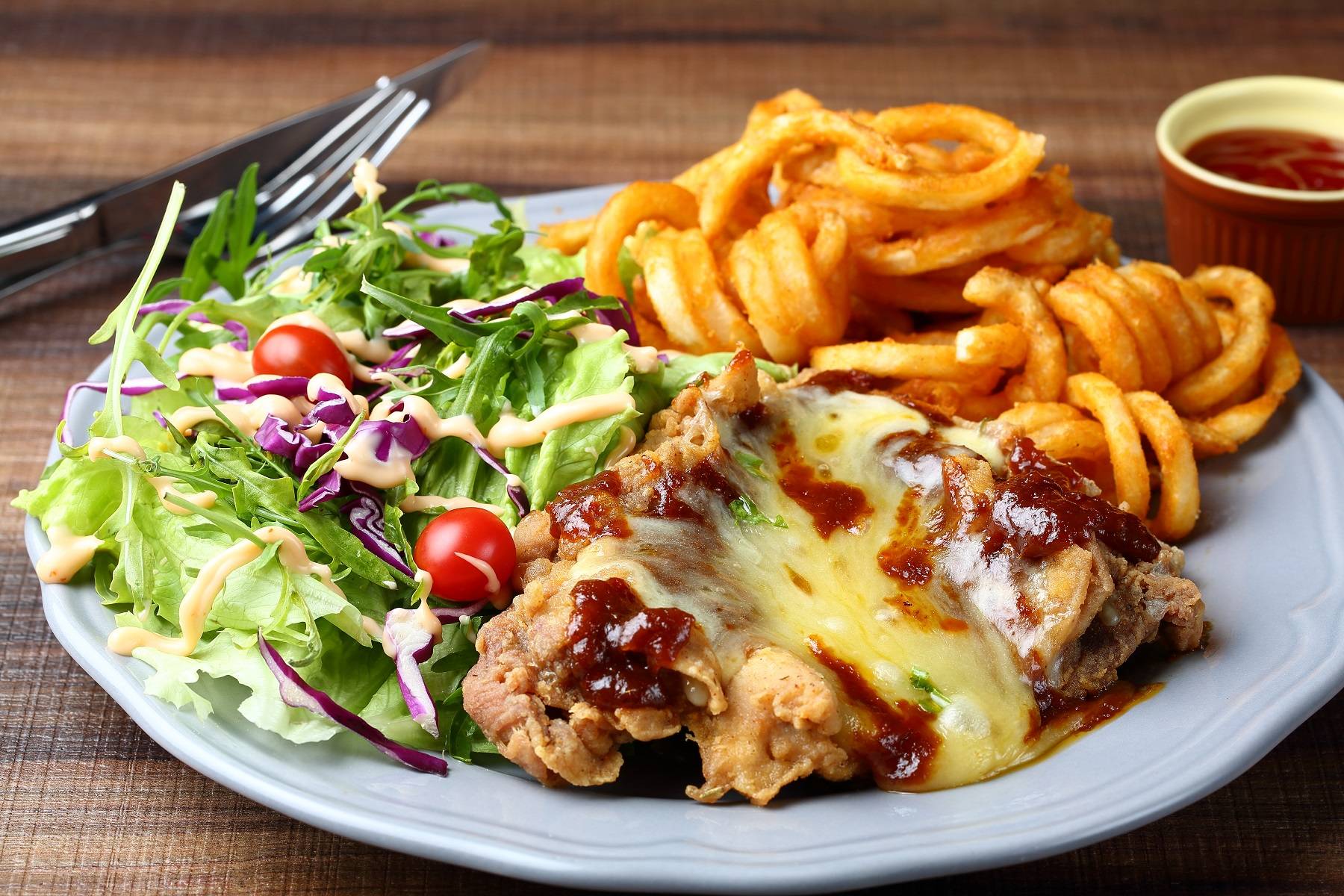 Rib eye steak, grilled to perfection, sliced and served with a bed of fresh salad tossed in our homemade citrus dressing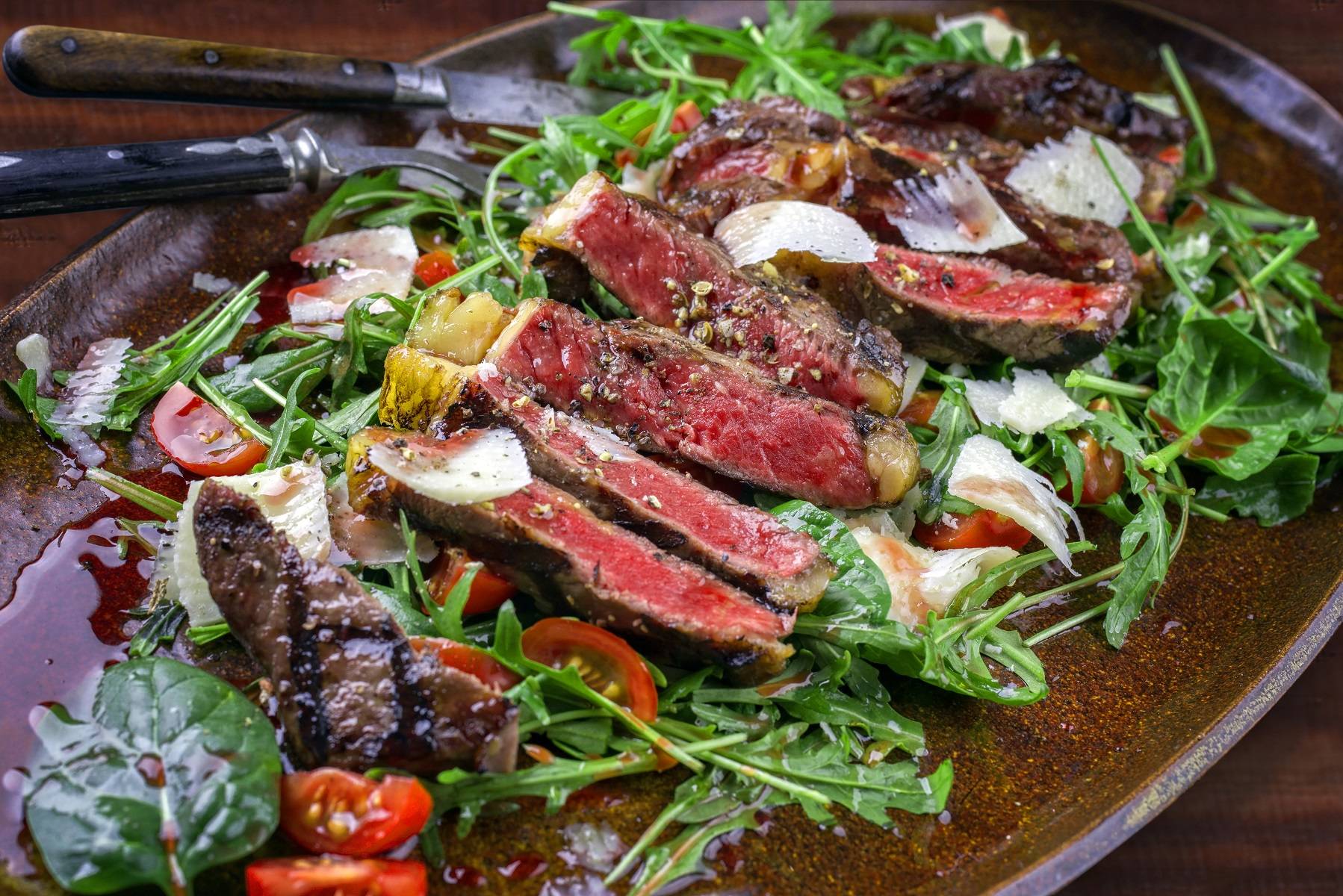 DOME FILET MIGNON SURF & TURF
Premium cut tenderloin steak, served on a bed of creamy potato salad, asparagus, grilled prawns, mushroom brown sauce drizzled with béarnaise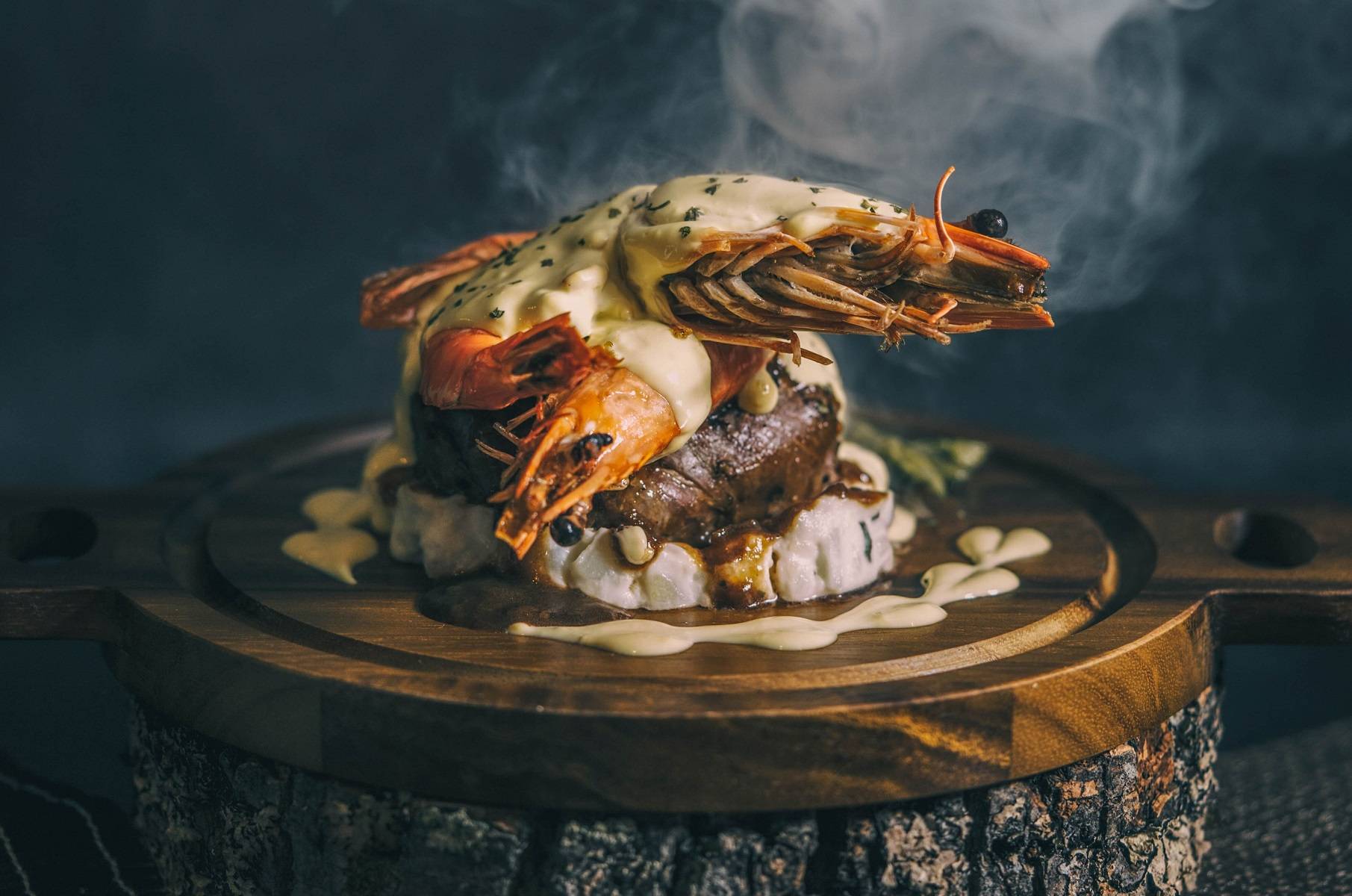 MALAY LACE CRÉPE WITH CURRY CHICKEN STEAK, SAMBAL QUAIL EGG & SALAD
Lace-like crépe (Roti Jala), curry chicken chop, spicy quail egg sambal and a bed of fresh greens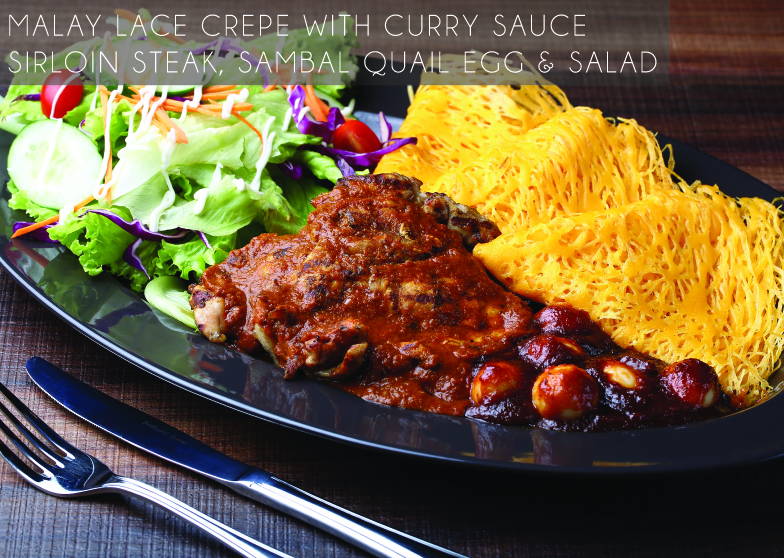 Baby snapper fillet battered, deep fried and drizzled with Chinese style Kung Pao Sauce. Golden fries and fresh garden crisp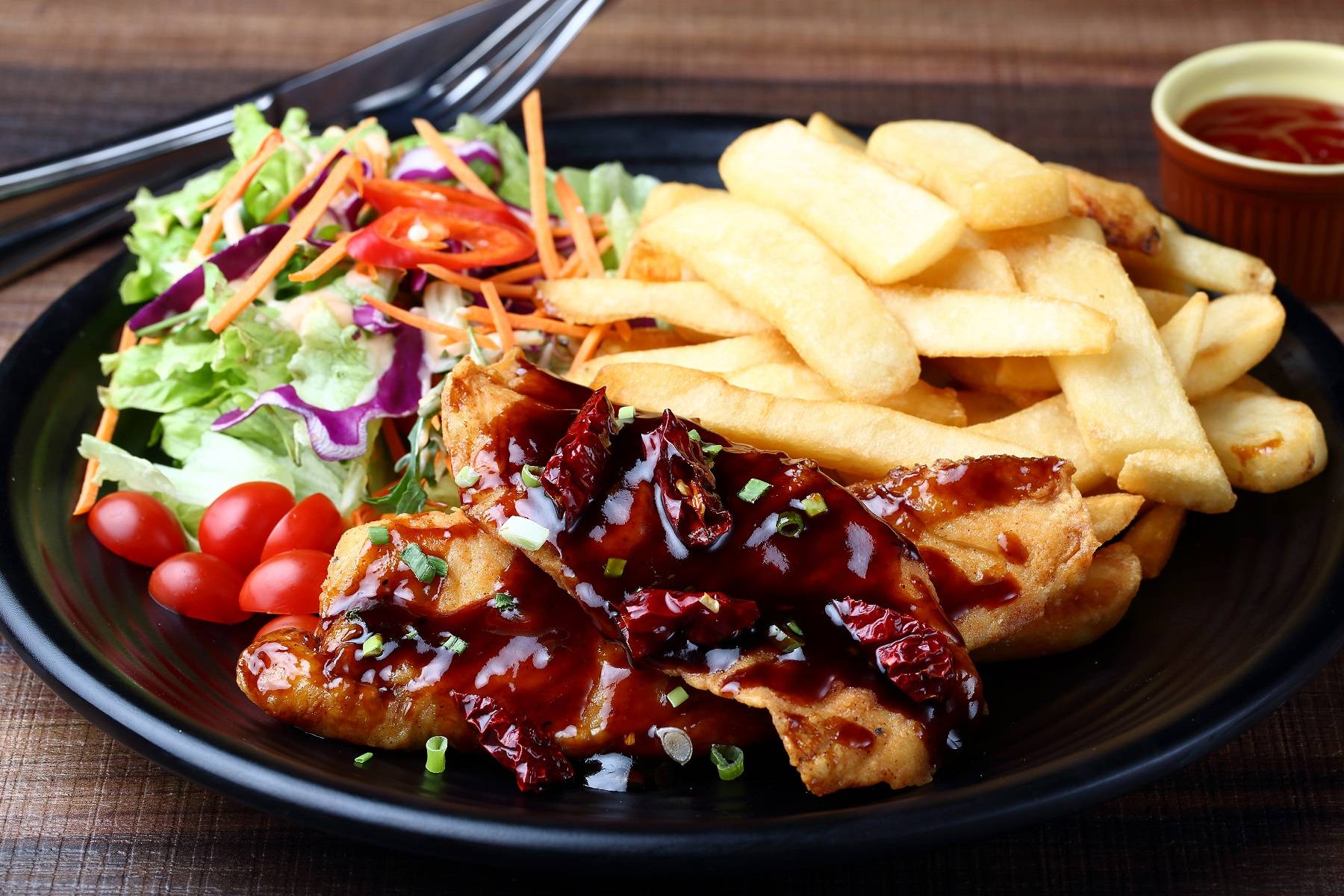 Chef Yong and Noosh Team presents to you an assortment of baby lobster and seafood in our unique seafood sauce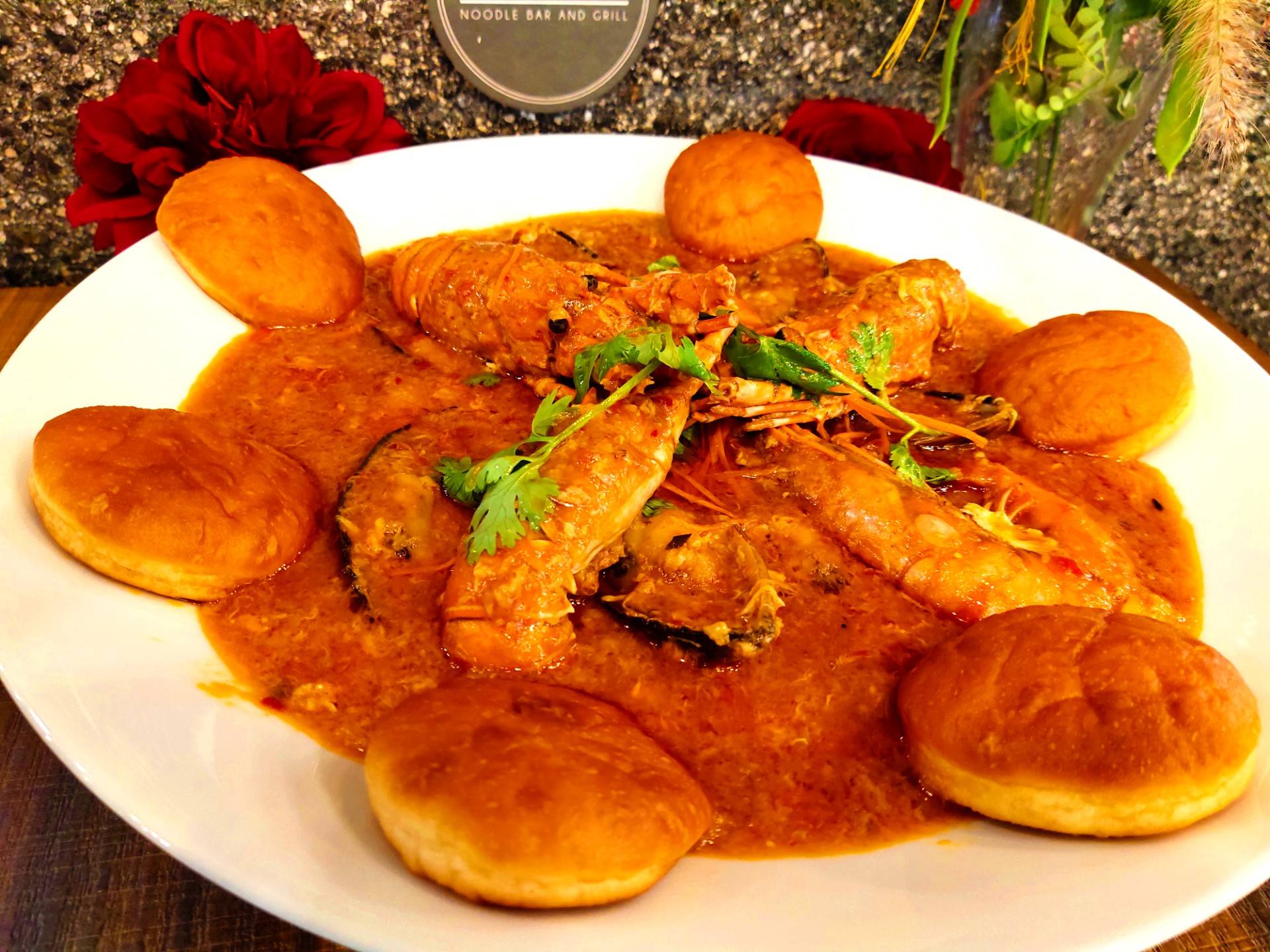 MAC & CHEESE BEEF GOULASH
Macaroni & cheese topped with beef bacon and homemade goulash. A must try for all cheese lovers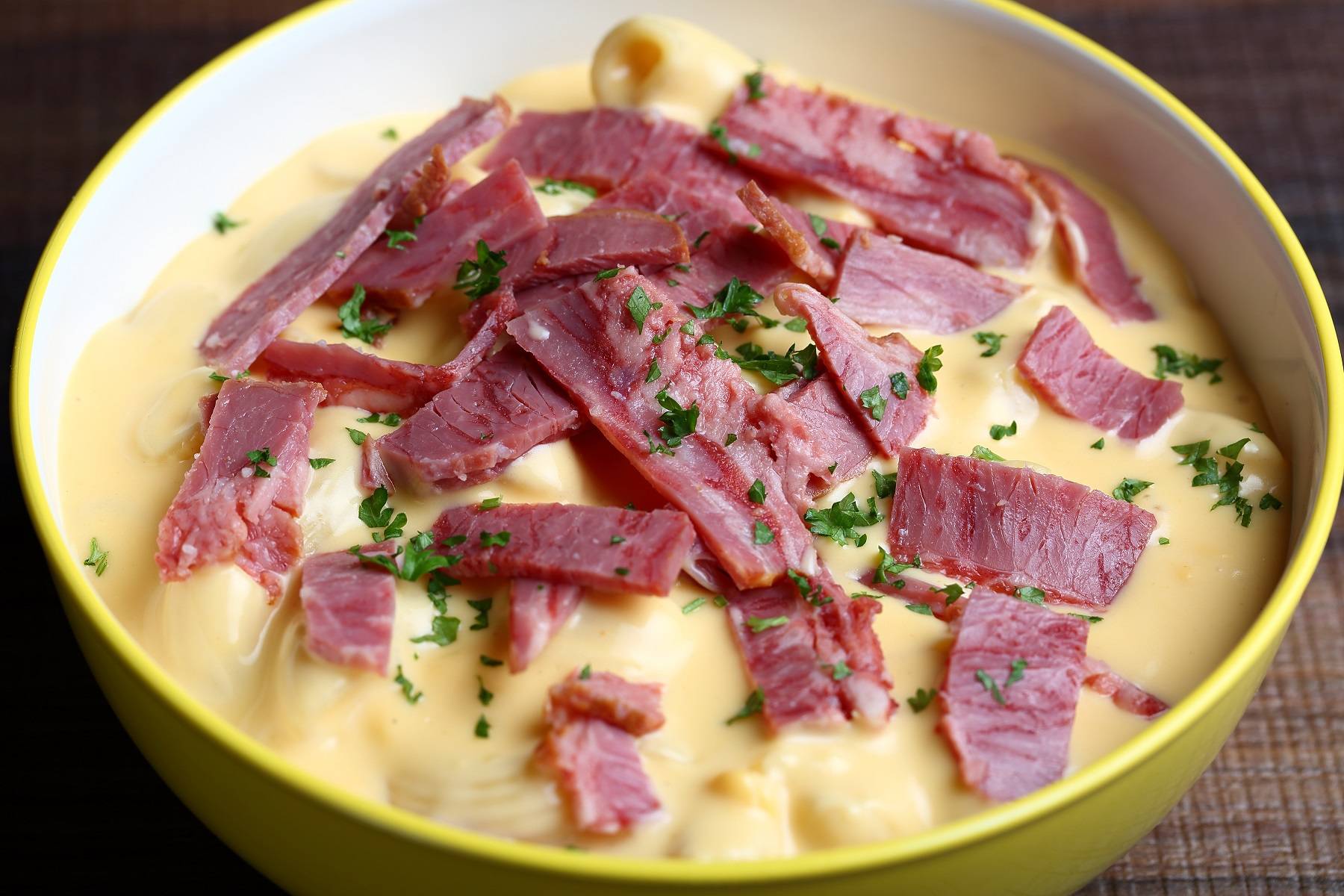 BLACK PEPPER SIRLOIN BEEF WITH FRIES
Usual favourite! With french fries to go along
THE BONAFIDE (SHARING PLATTER)

A perfect sampler. Share a platter of perfectly grilled tiger prawns, seasoned deep fried wings, juicy sliced sirloin steak, fried oysters and squid cekodok with a medley of side dips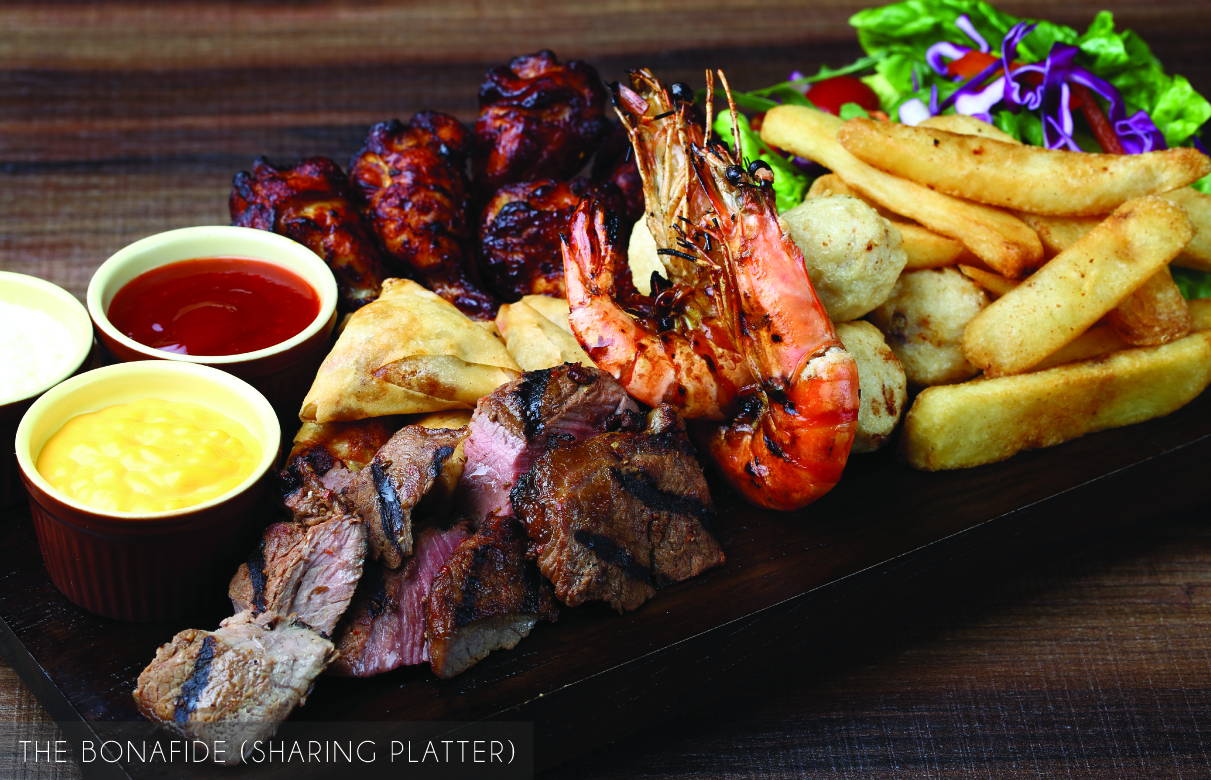 NOOSH STYLE BAKED CHICKEN WITH LEMAK SAUCE
Noosh Team version of Baked Chicken with Lemak Sauce. Wow! Another choice!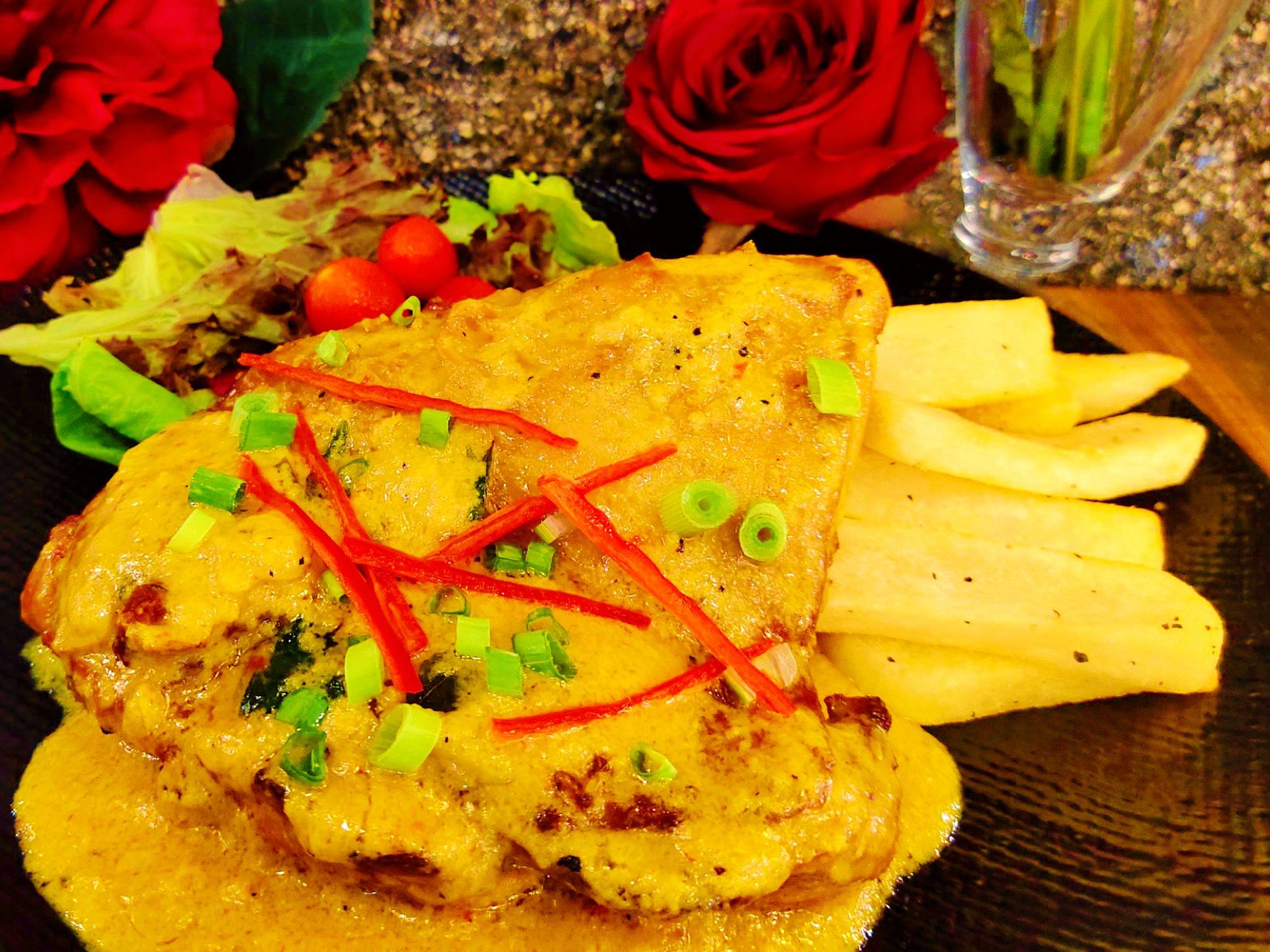 NOOSH STYLE LOBSTER THERMIDOR
Noosh Team present their style of Lobster Thermidor. Why not try it?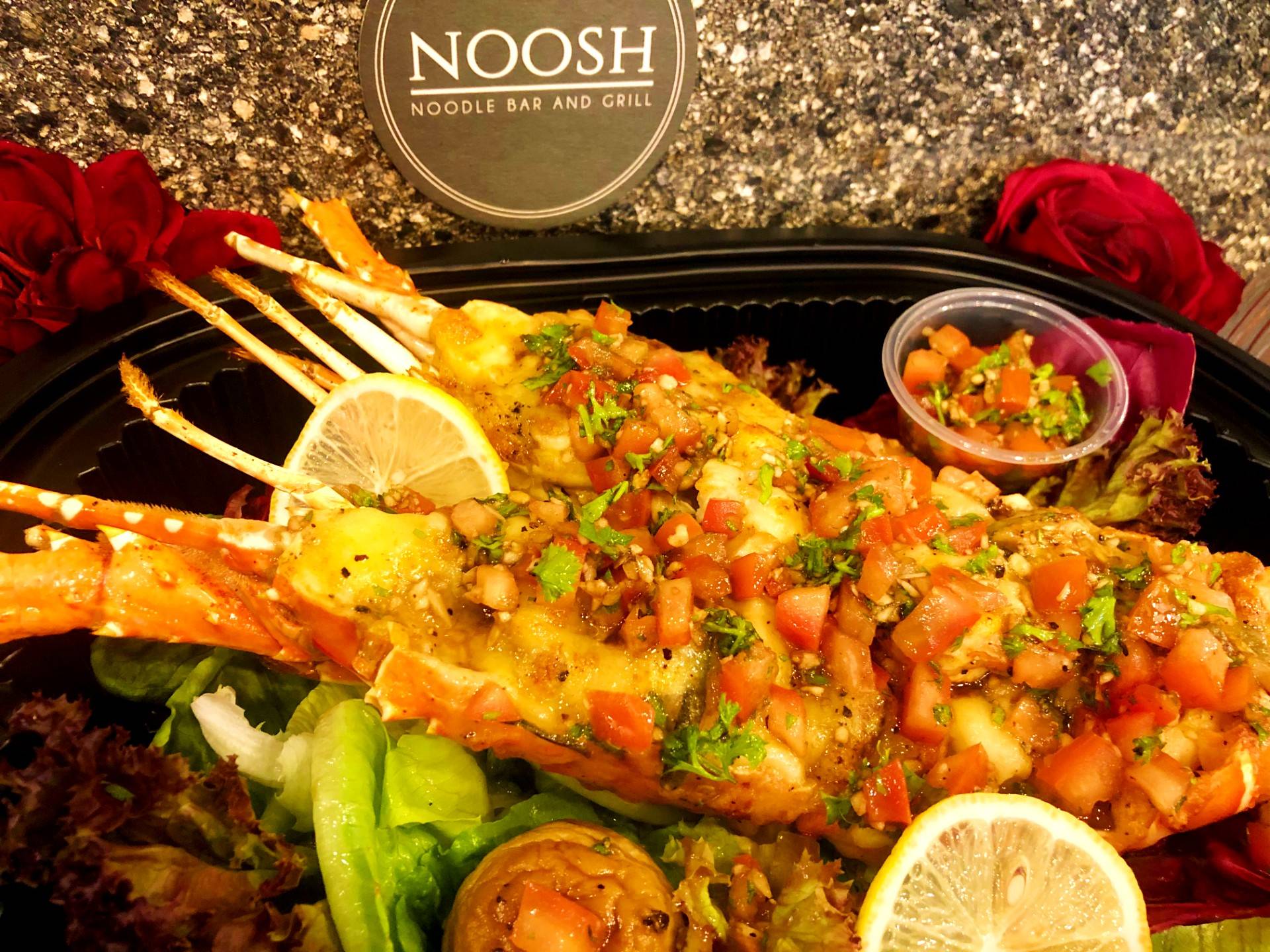 Noosh Team presents a single person Lobster prepared with our Balinese Sambal Cheese.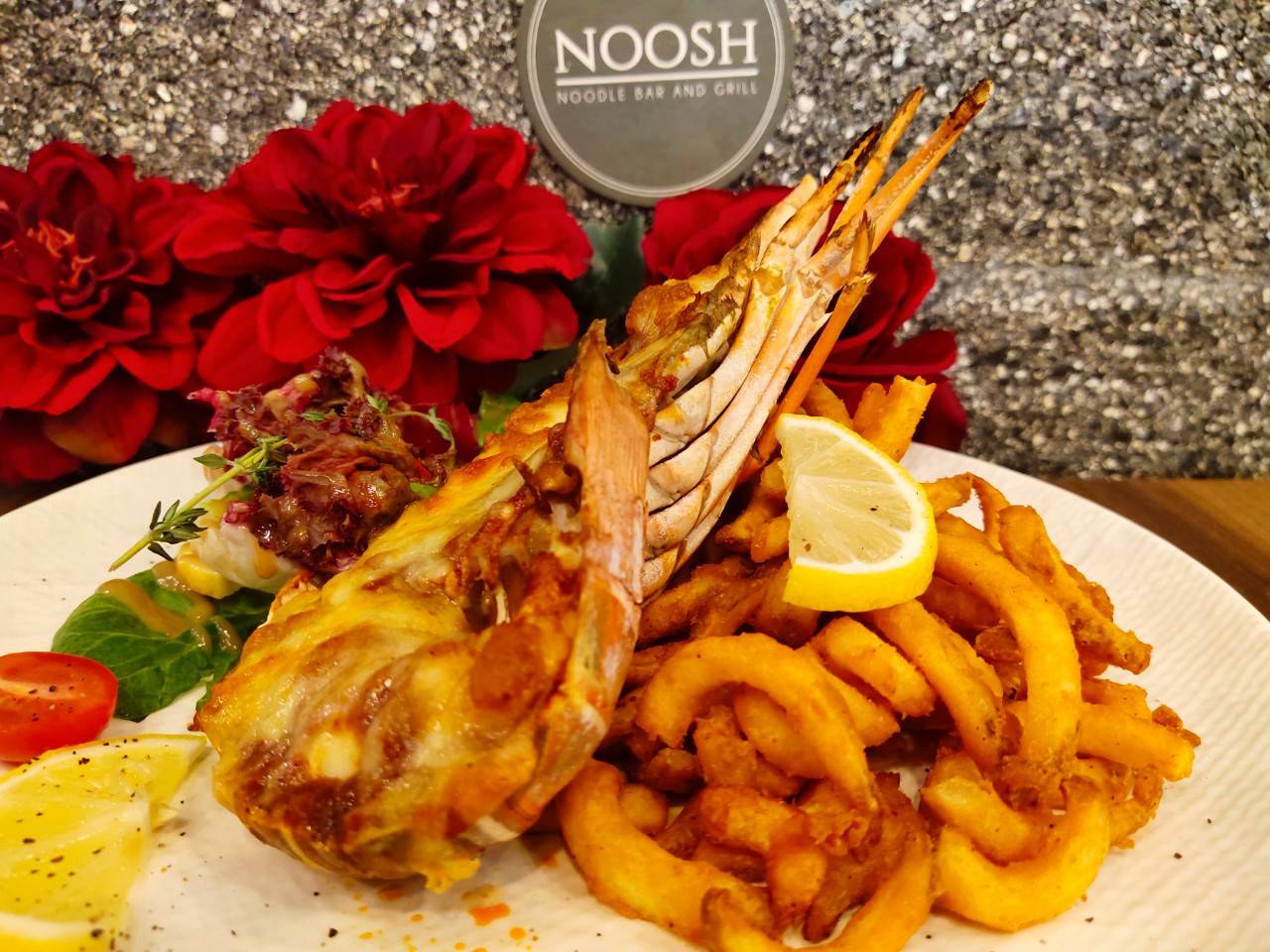 Springy noodles, spicy Korean curry soup, sirloin beef braised in hot bean paste, warm Hanjuku egg and fresh spring onions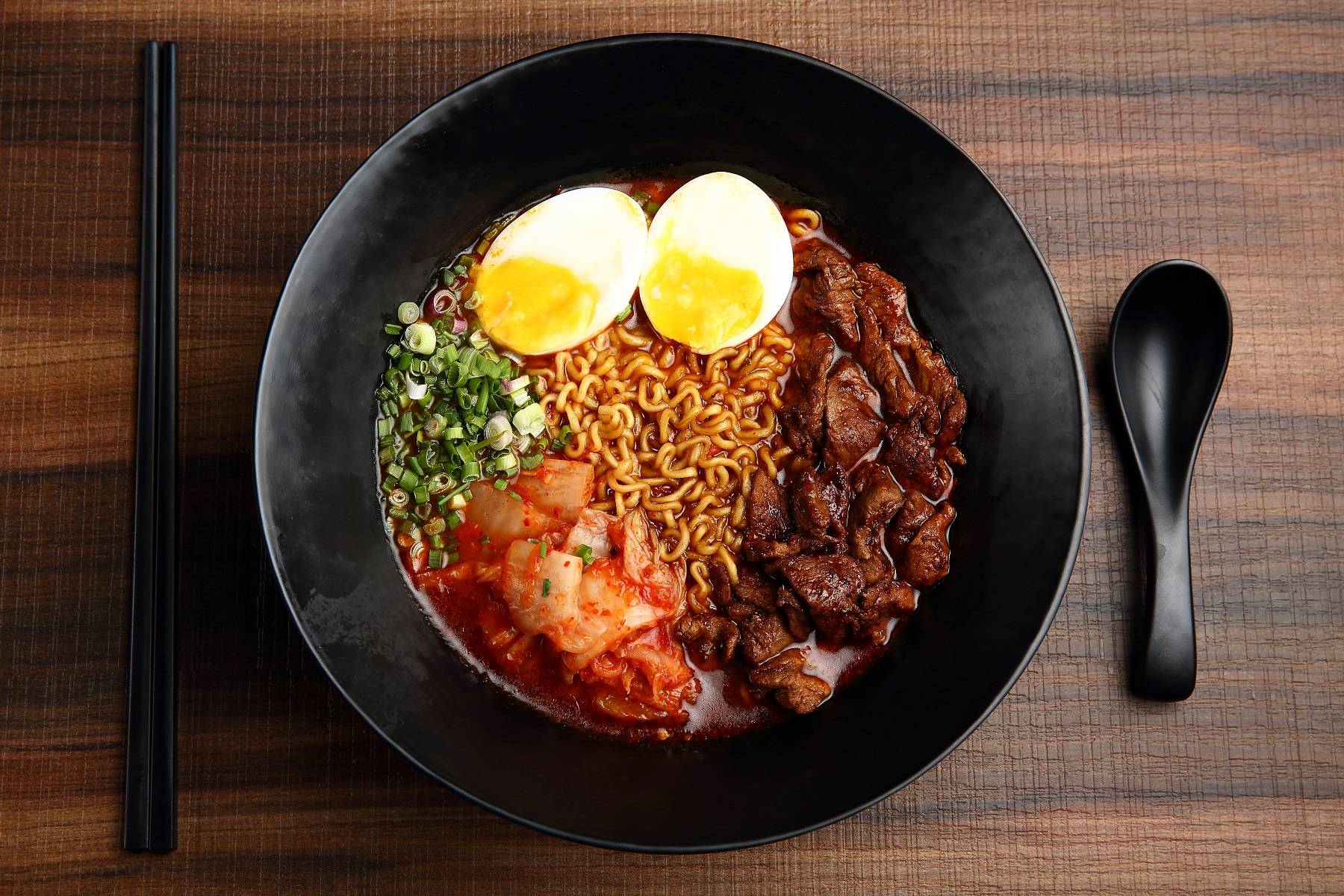 SMOKED DUCK LEMAK CHILI PADI PASTA
Spaghetti in spicy coconut gravy with smoked duck, arugula and sweet cherry tomatoes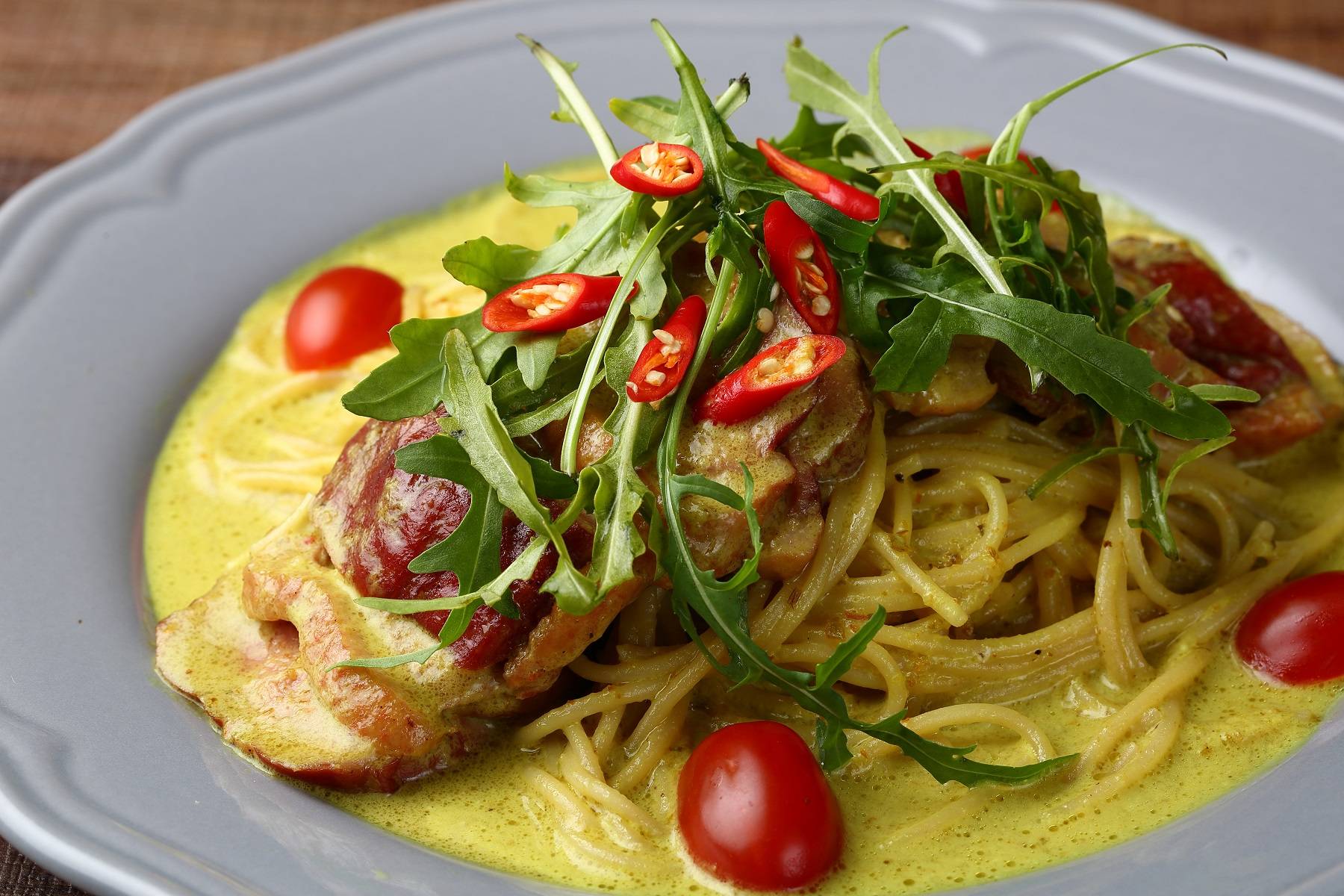 SZECHUAN BEEF RIBS NOODLE

Szechuan-style soup with chunks of beef ribs, ramen noodles and beansprouts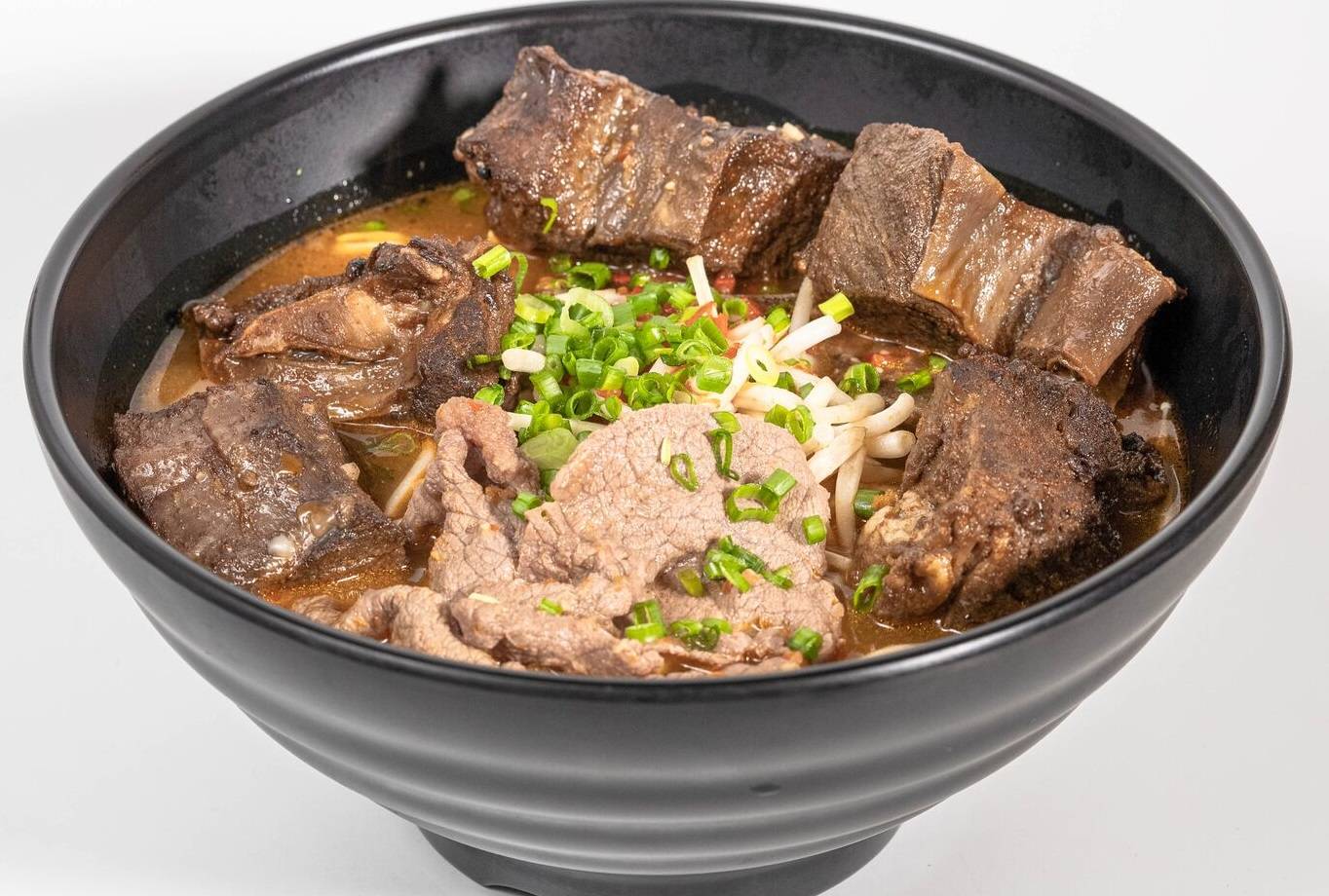 JAJANGMYEON NOODLE SIZZLING PLATE (BEEF/CHICKEN)
Stir-fried ramen, sweet bean paste sauce, sliced beef or chicken, steamed seasoned vege and a sunny side up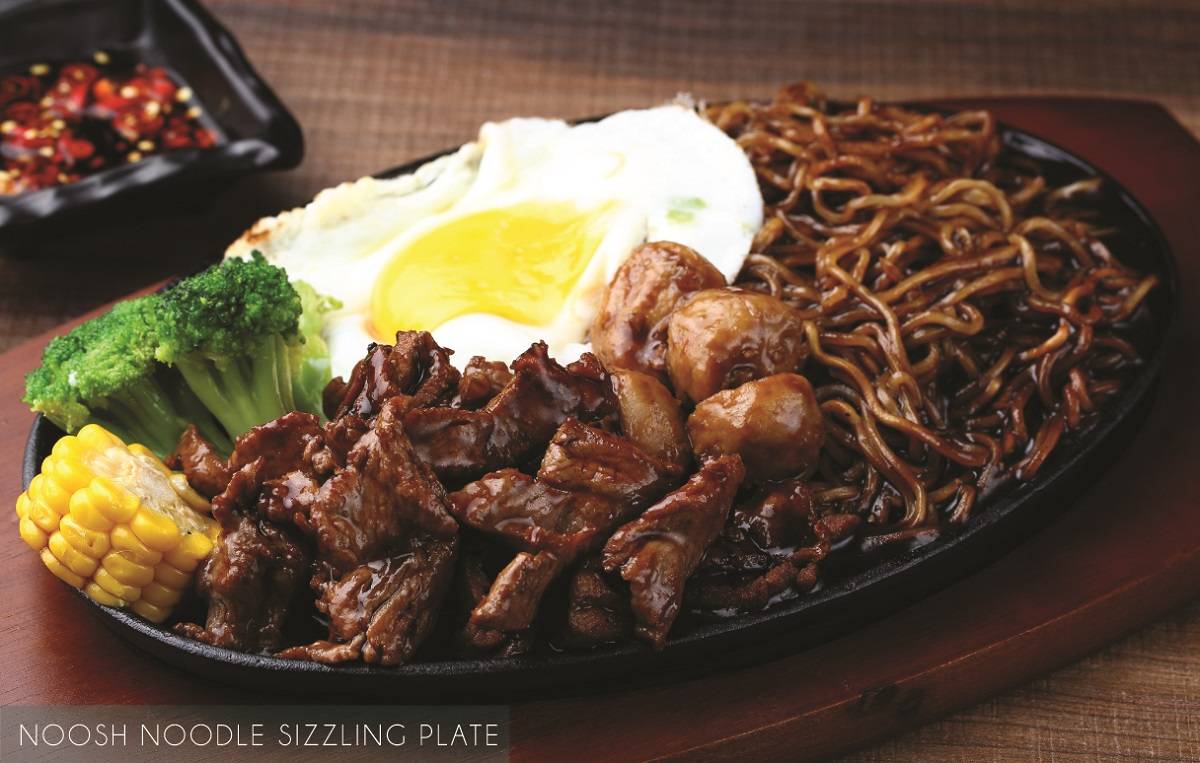 NOOSH STYLE CHAR KUAY TEOW
Noosh own version of Char Kway Teow. Another choice. It is democratic !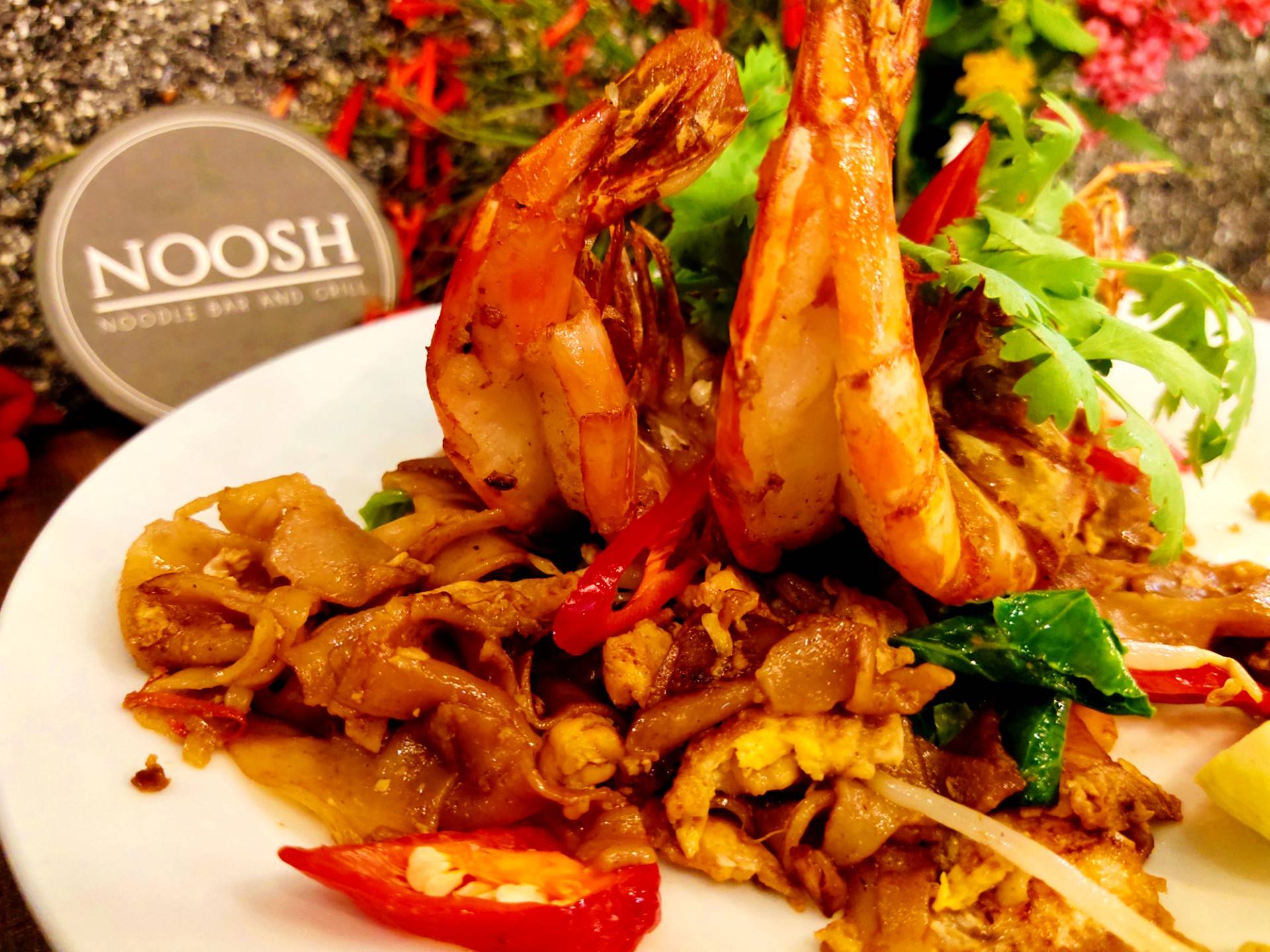 NIBOSHI RAMEN WITH SLICED BEEF

Anchovies based broth, ramen noodles, warm Hanjuku egg and slice beef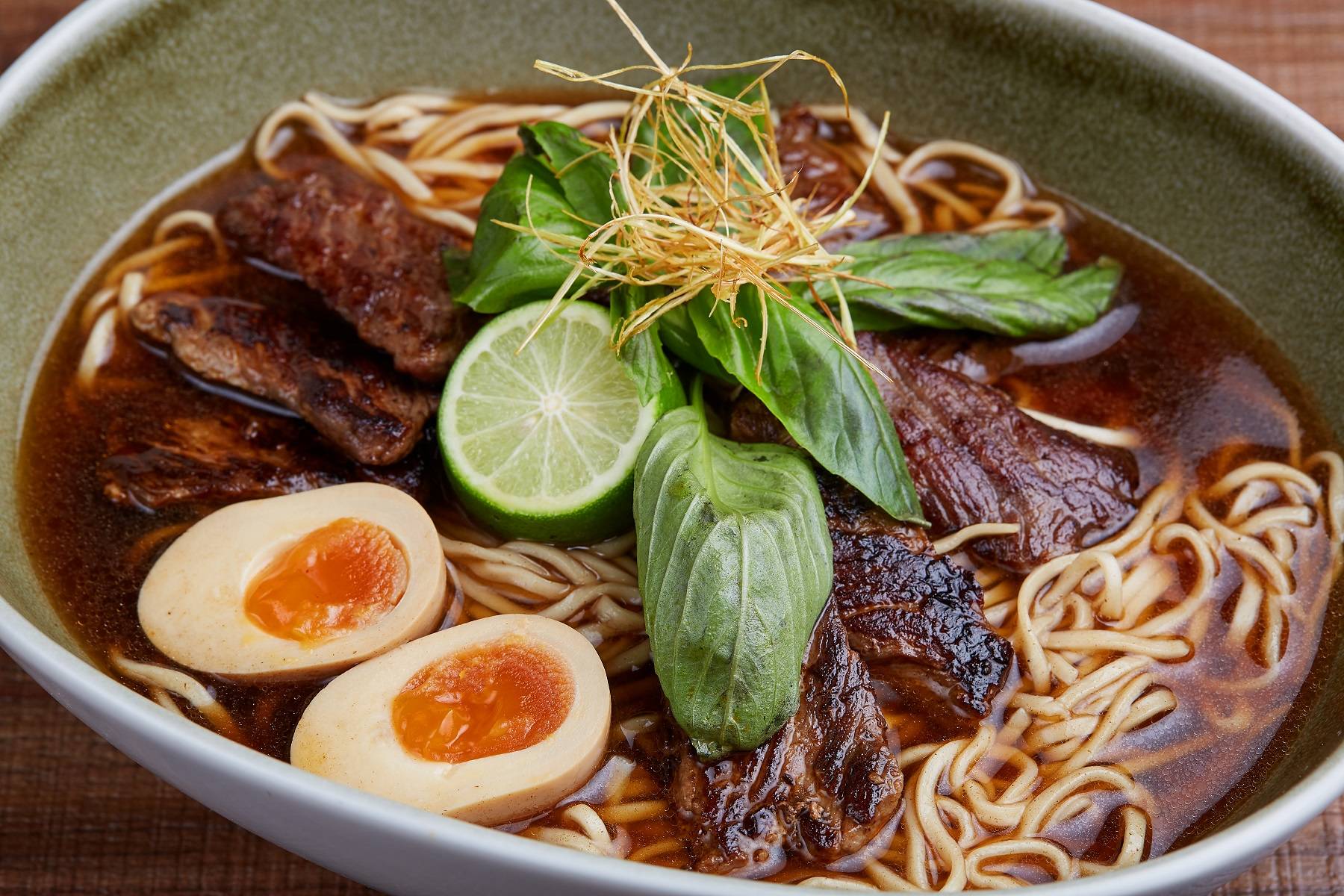 NOOSH STYLE SINGAPORE LAKSA
Noosh own version of Singapore Laksa noodles.. enahnced by Chef Yong and Noosh Team.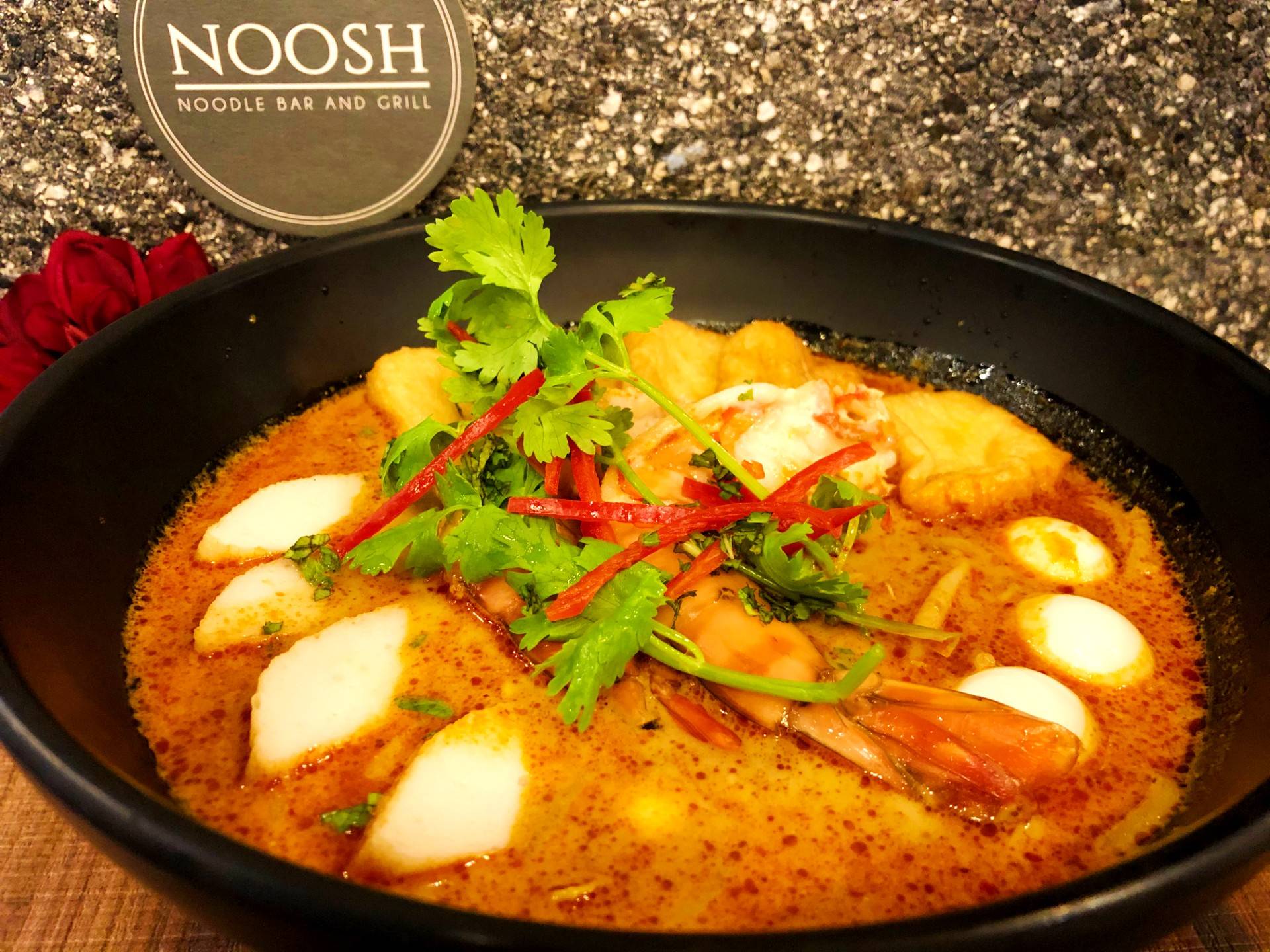 Ramen noodles, chicken chashu, shimeiji mushrooms, fresh corn, Hanjuku egg with miso soup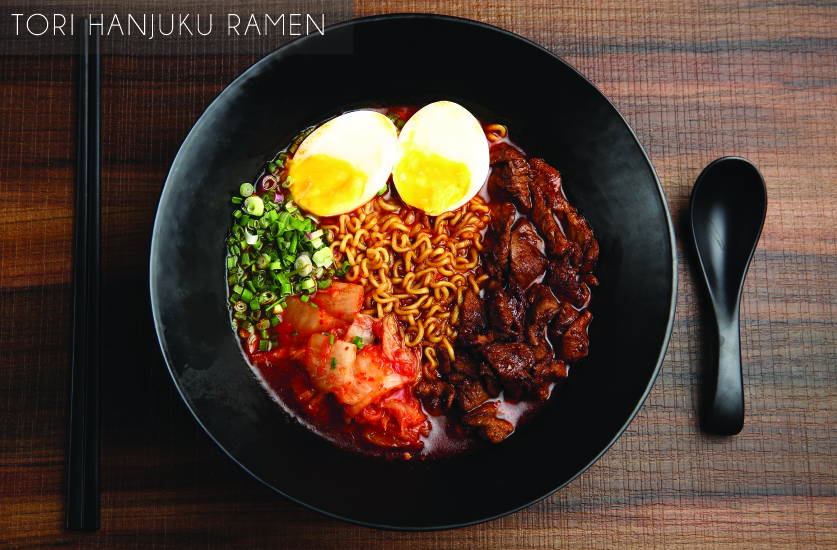 Stir fried Bee Hoon with a medley of mixed vegetables, sea scallops and prawns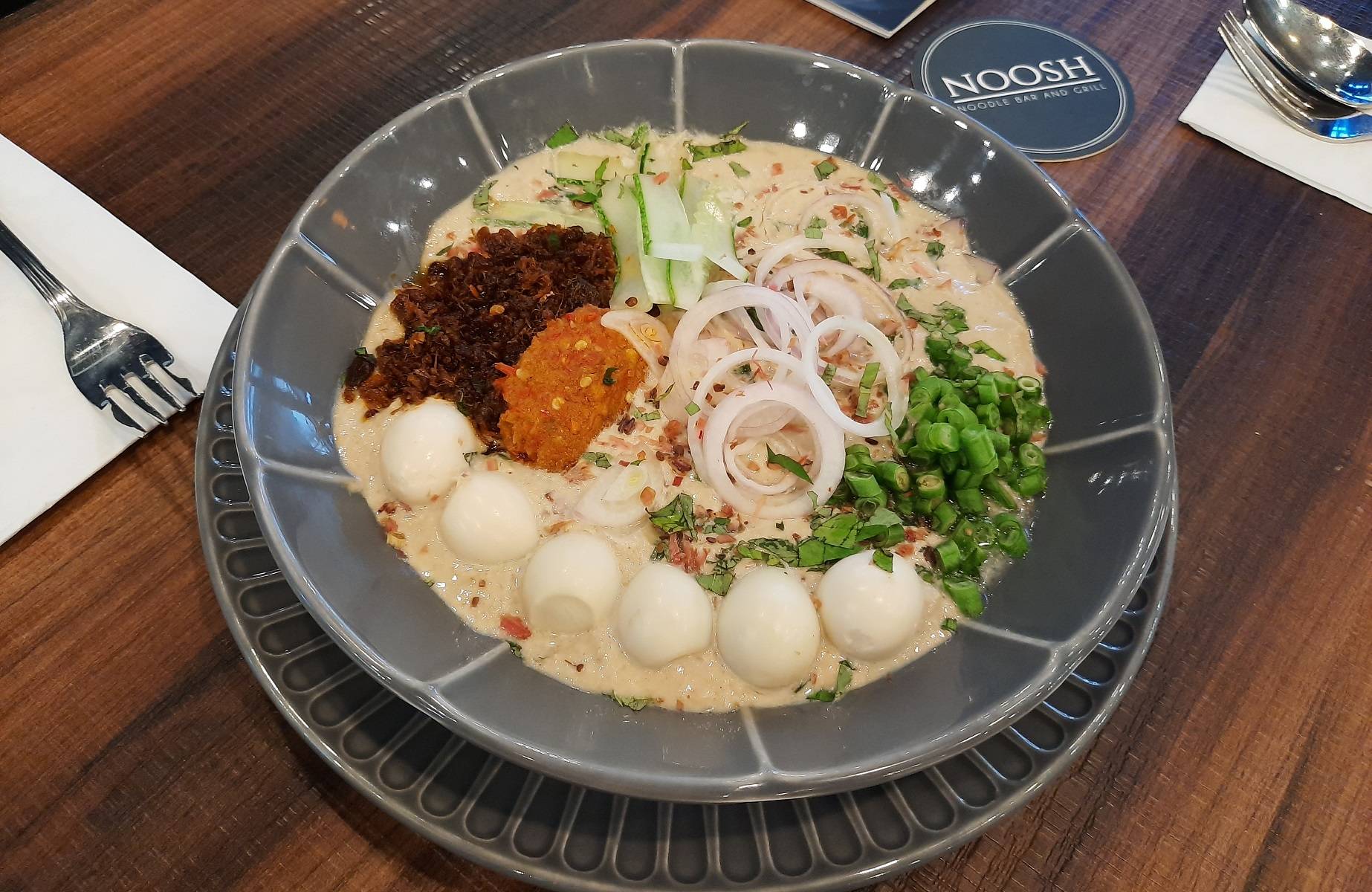 Yes , again Chef Bao and Noosh Team have not forgotten the vegetarians. Just for you.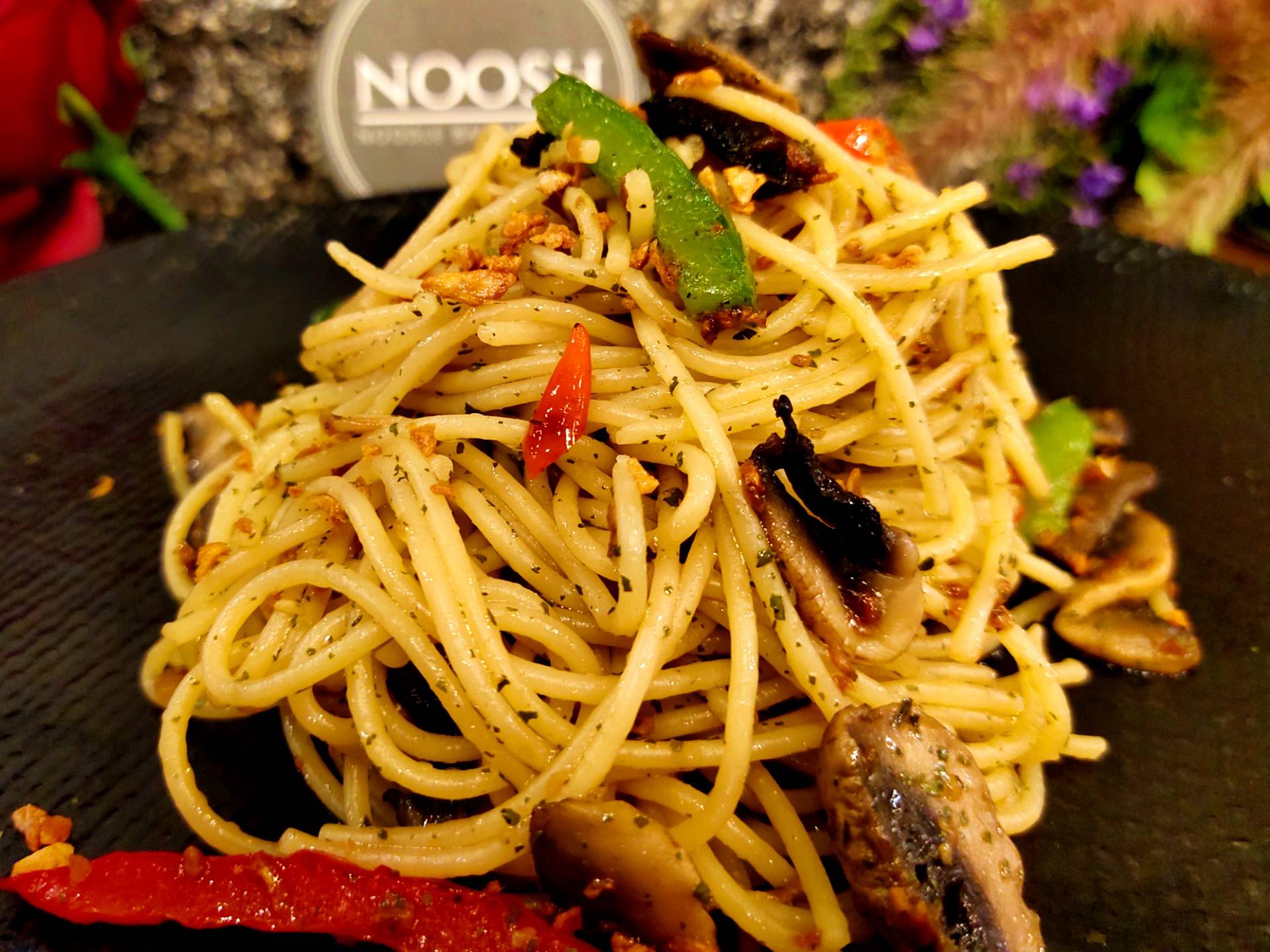 NOOSH UDON DRY SAMBAL NOODLE
Noosh Team creation of our own Dry Udon Noodle with Sambal Sauce. Try it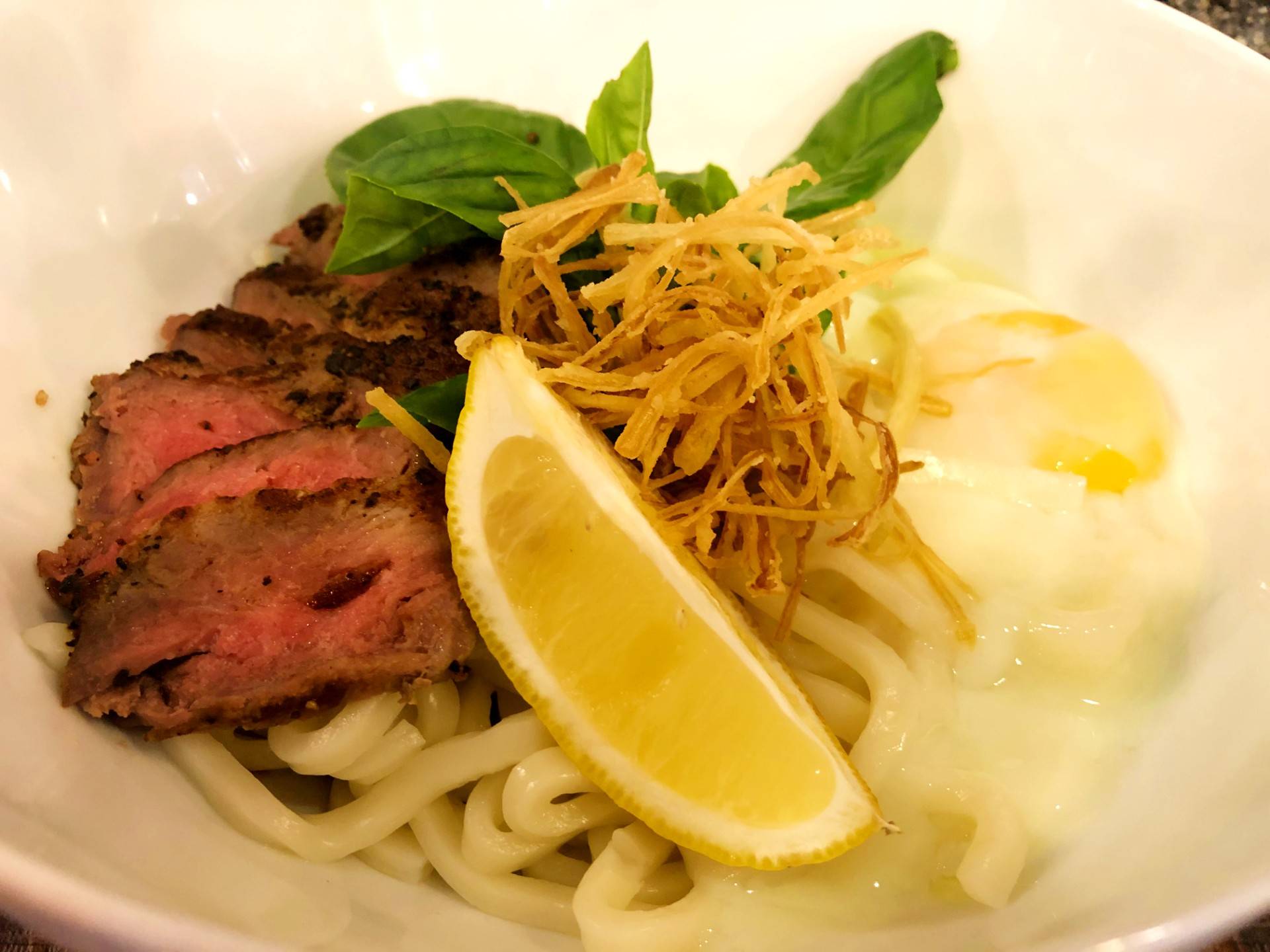 Kids' menu comes with complimentary apple juice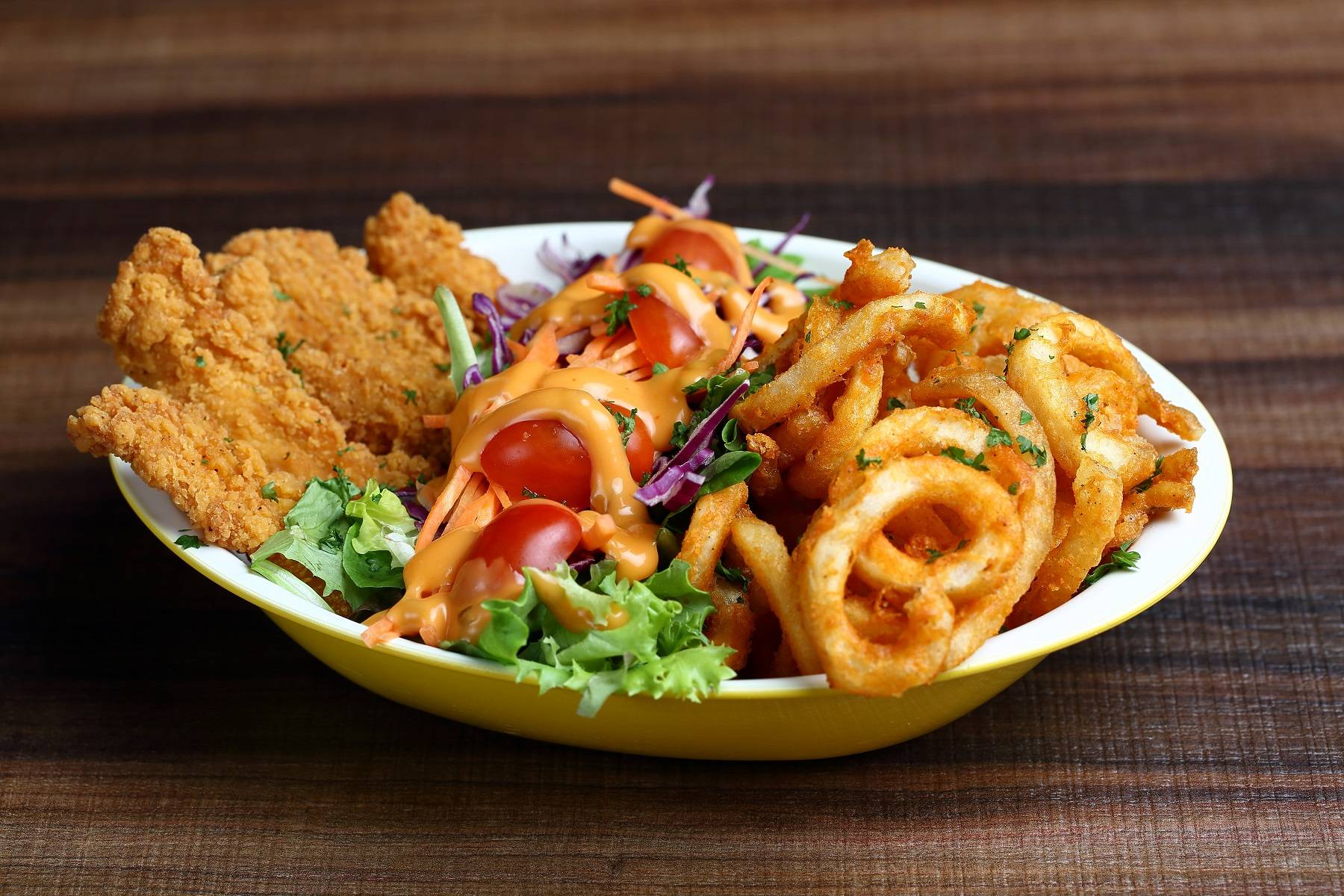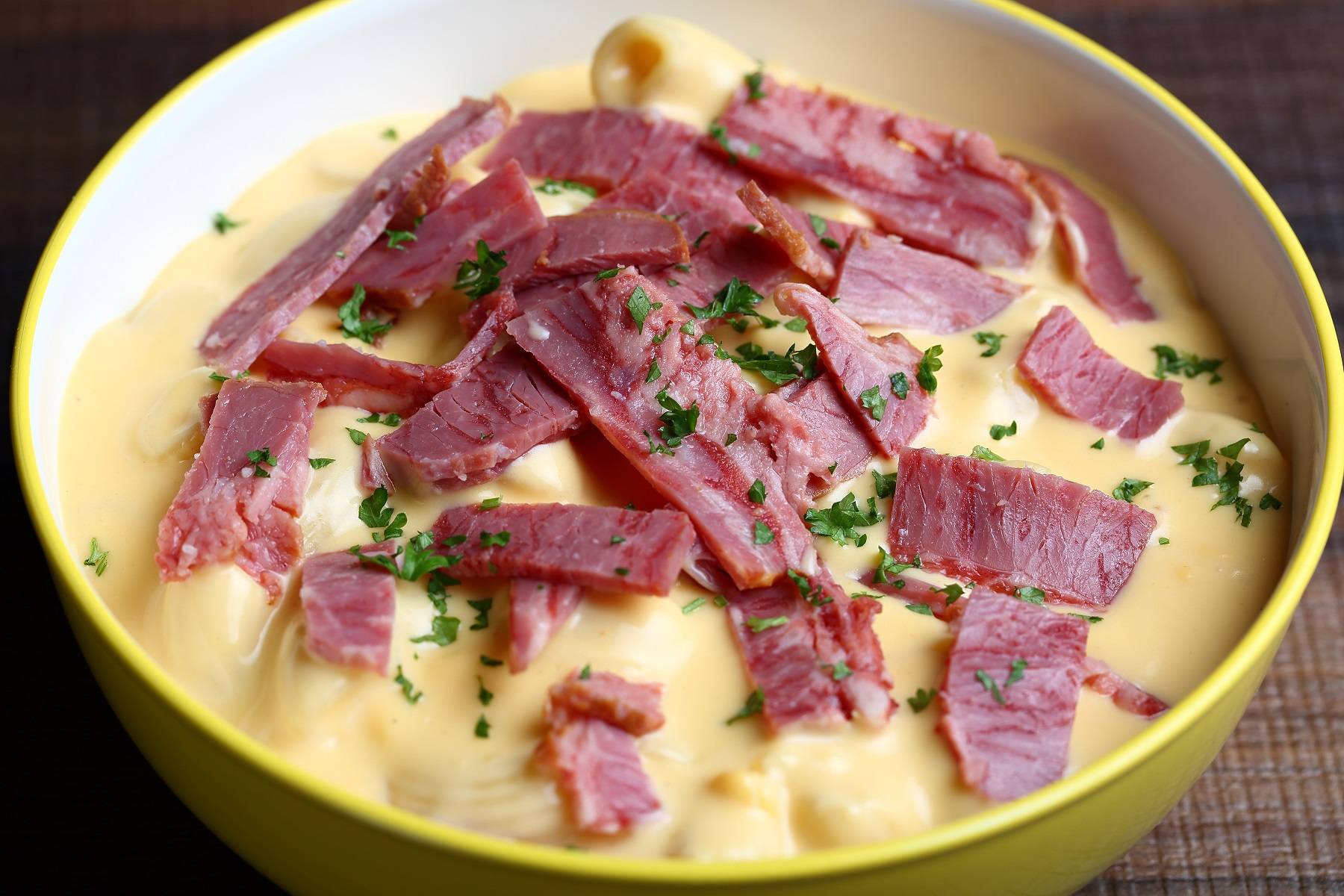 All desserts are served with a Free scoop of vanilla ice cream

CLASSIC ONDEH-ONDEH BUTTER CAKE (SLICE)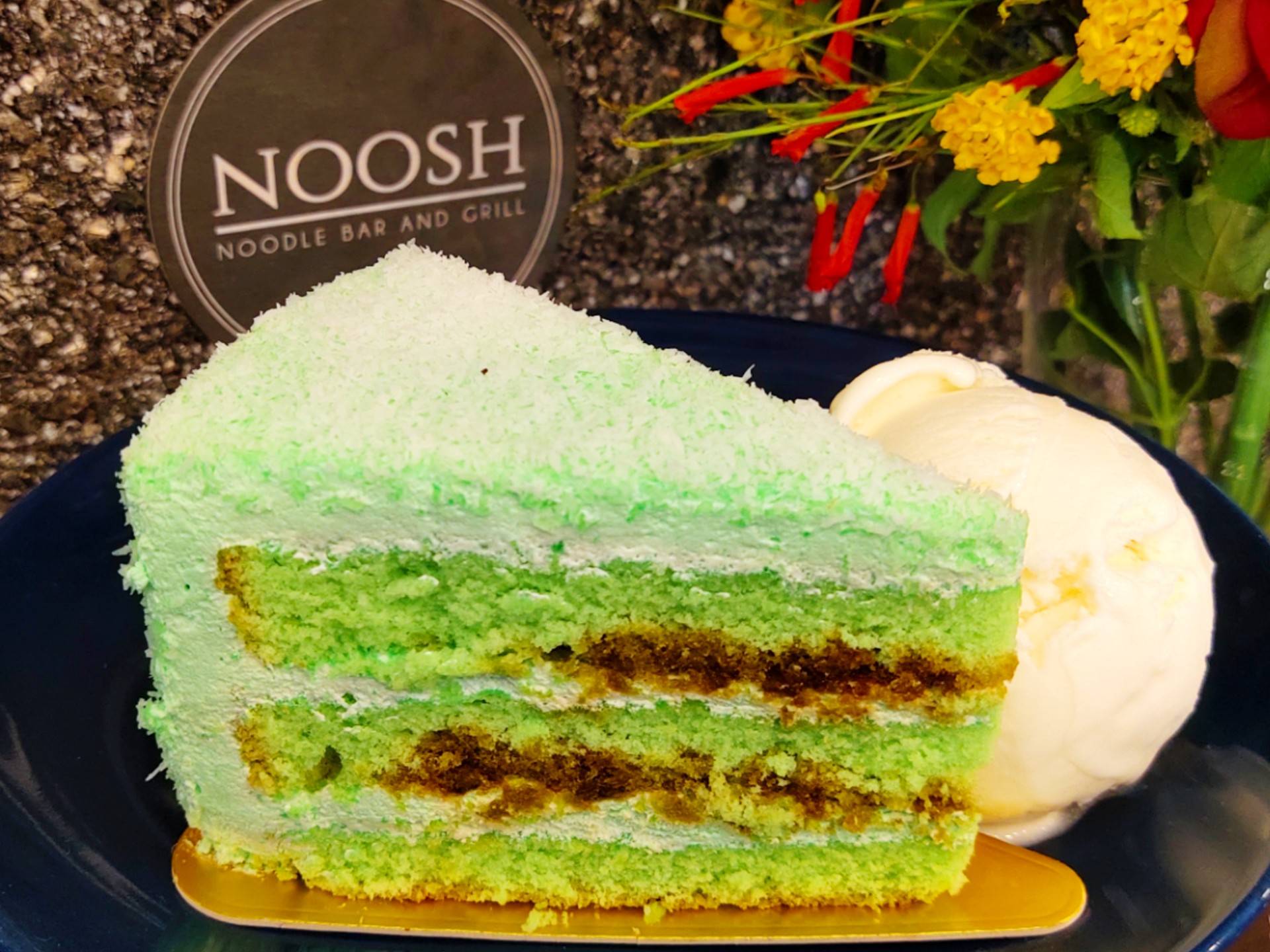 NOOSH ONDEH-ONDEH SPONGE CAKE (SLICE)

NOOSH TIRAMISU CAKE (SLICE)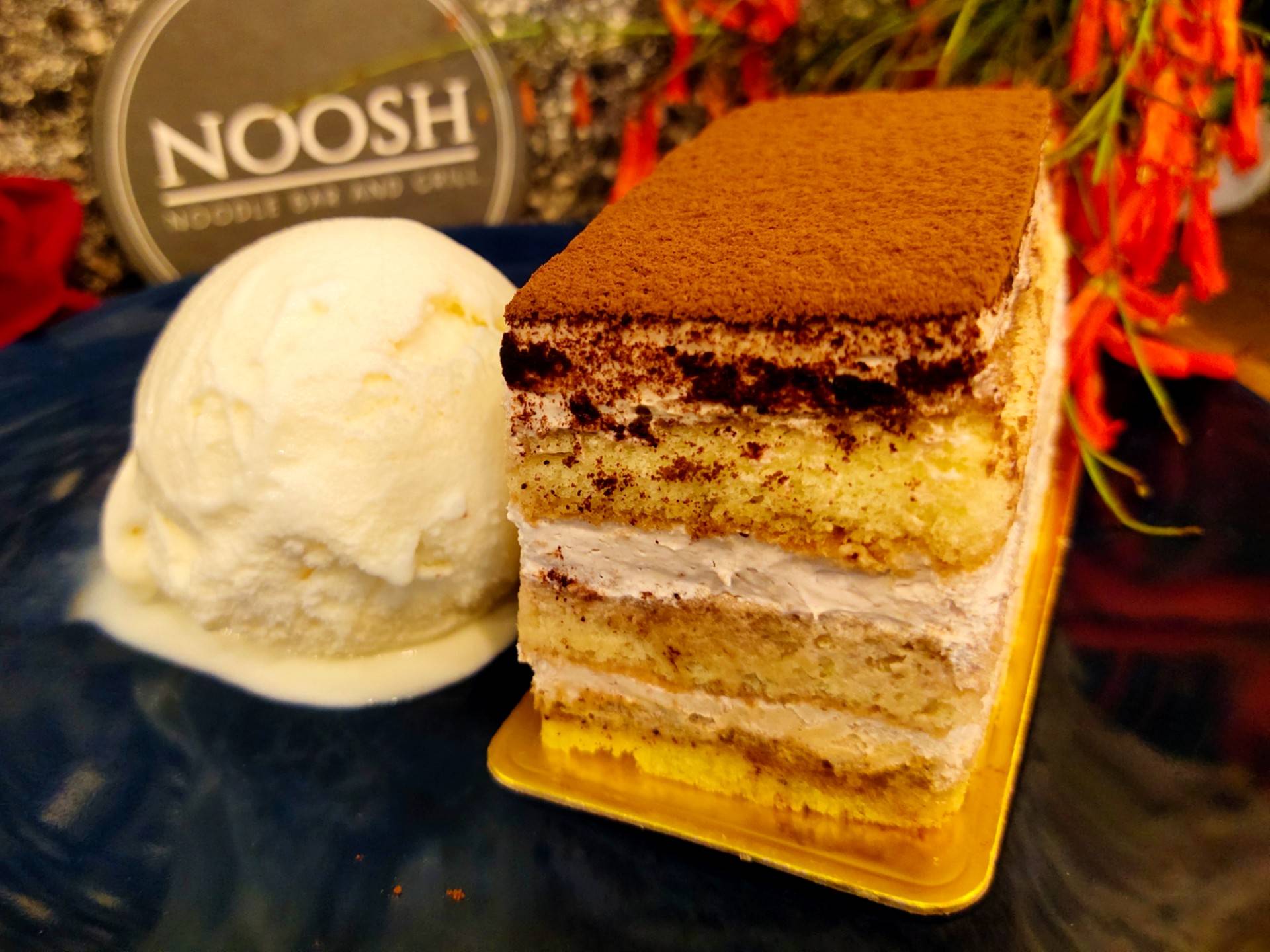 NOOSH STRAWBERRY SHORTCAKE (SLICE)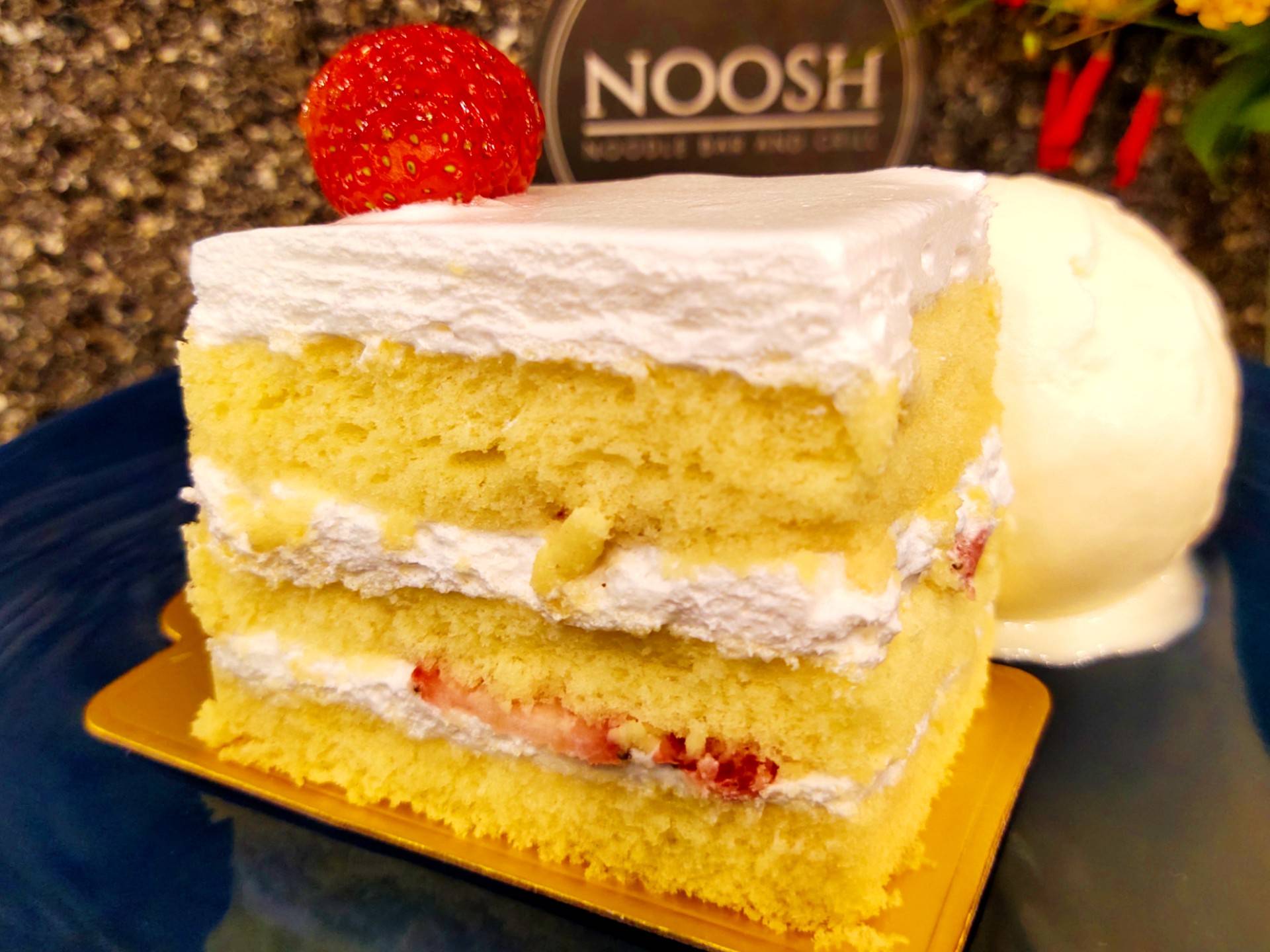 NOOSH NEWYORK CHEESE CAKE (SLICE)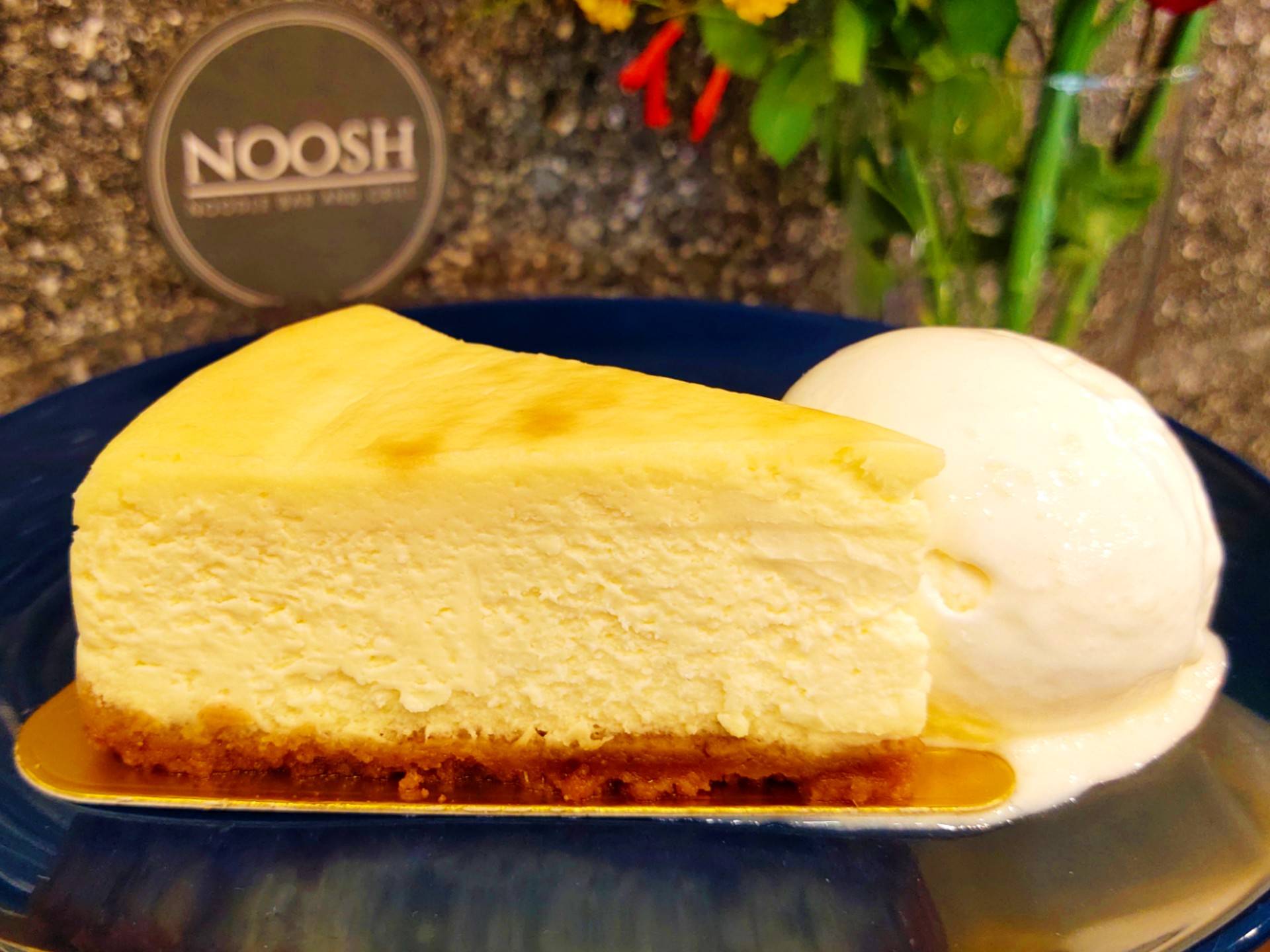 NOOSH STRAWBERRY CHEESE CAKE (SLICE)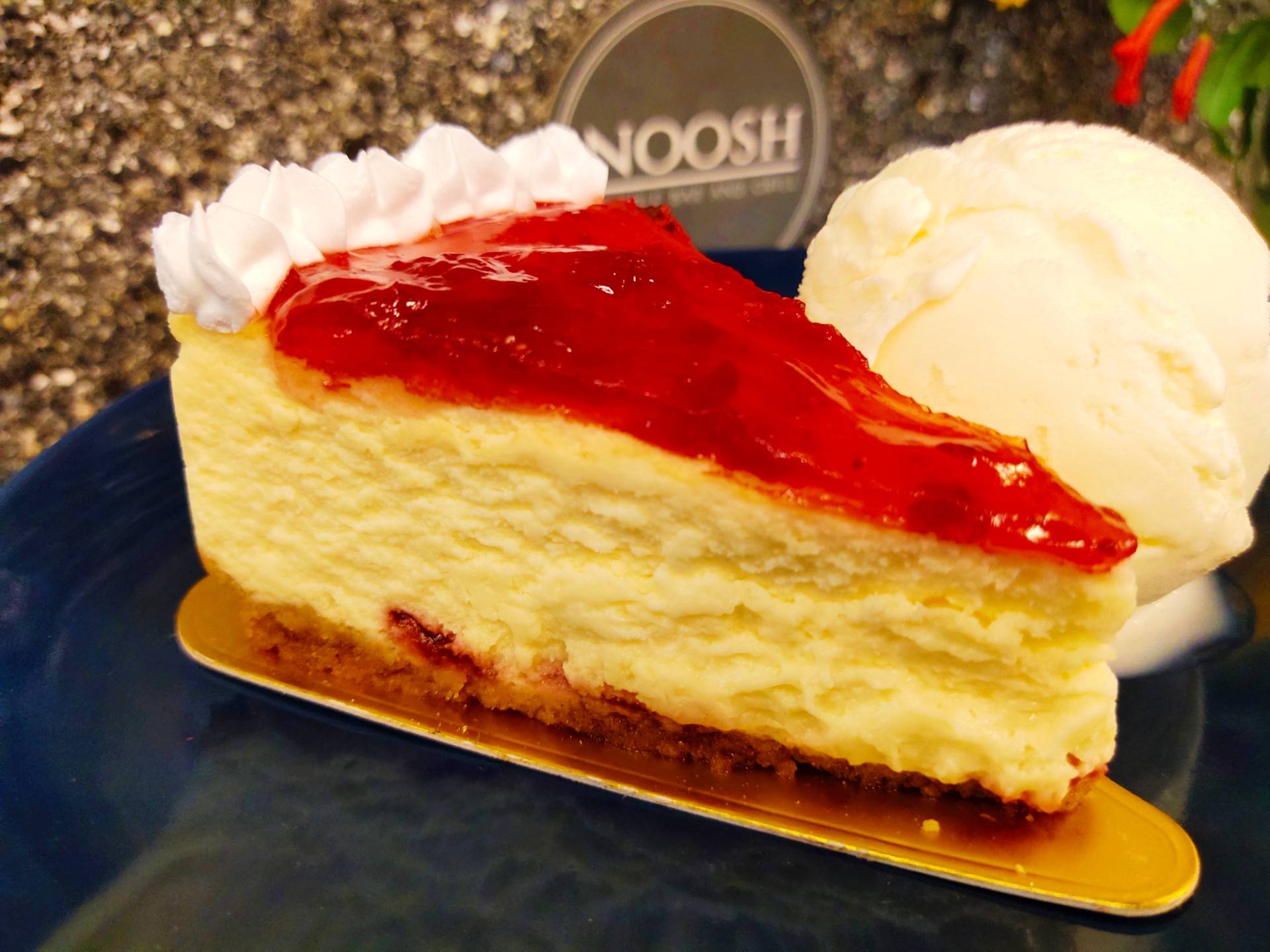 NOOSH MANGO MOUSSE CAKE (SLICE)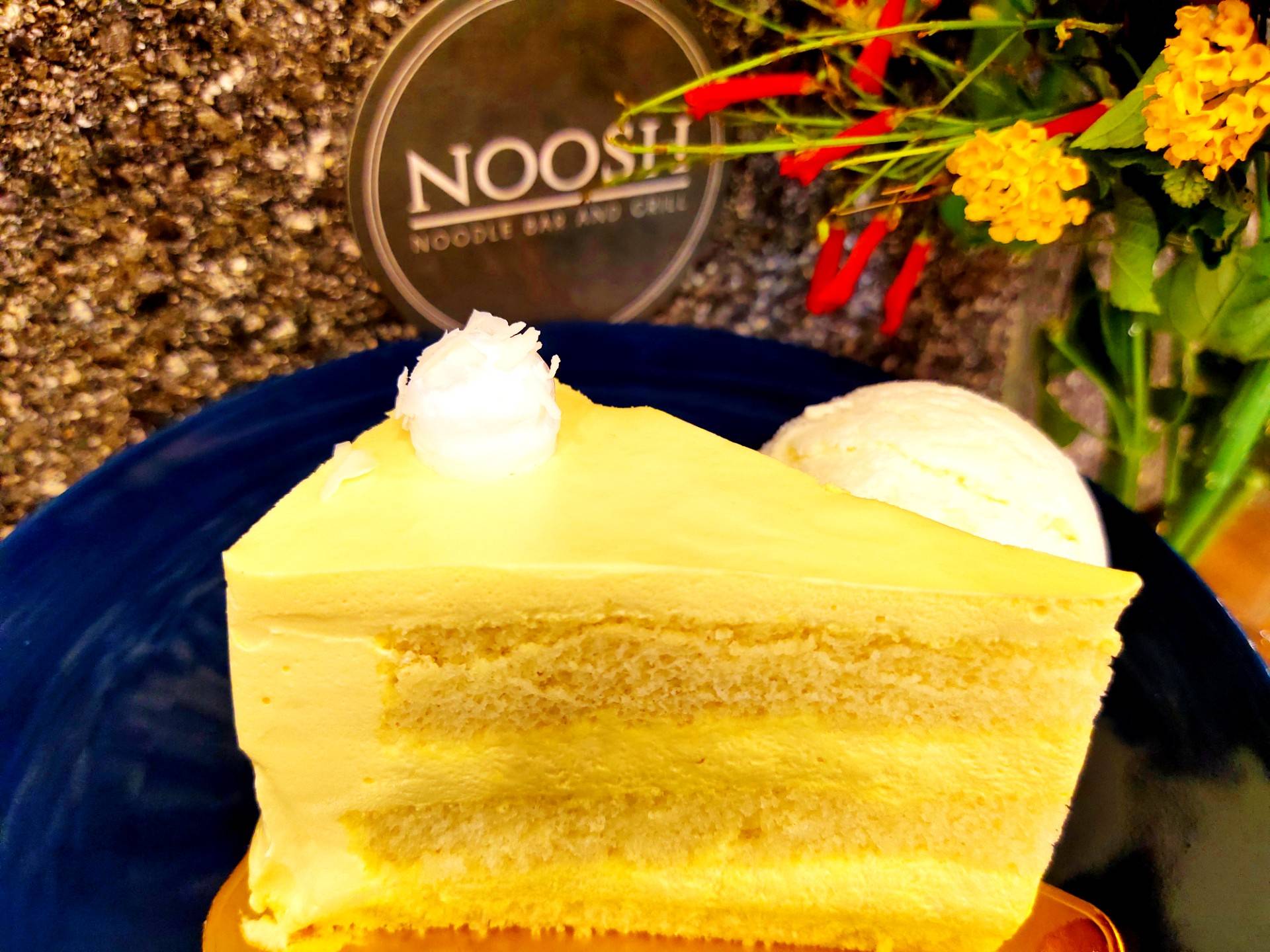 NOOSH BLUEBERRY CHEESE CAKE (SLICE)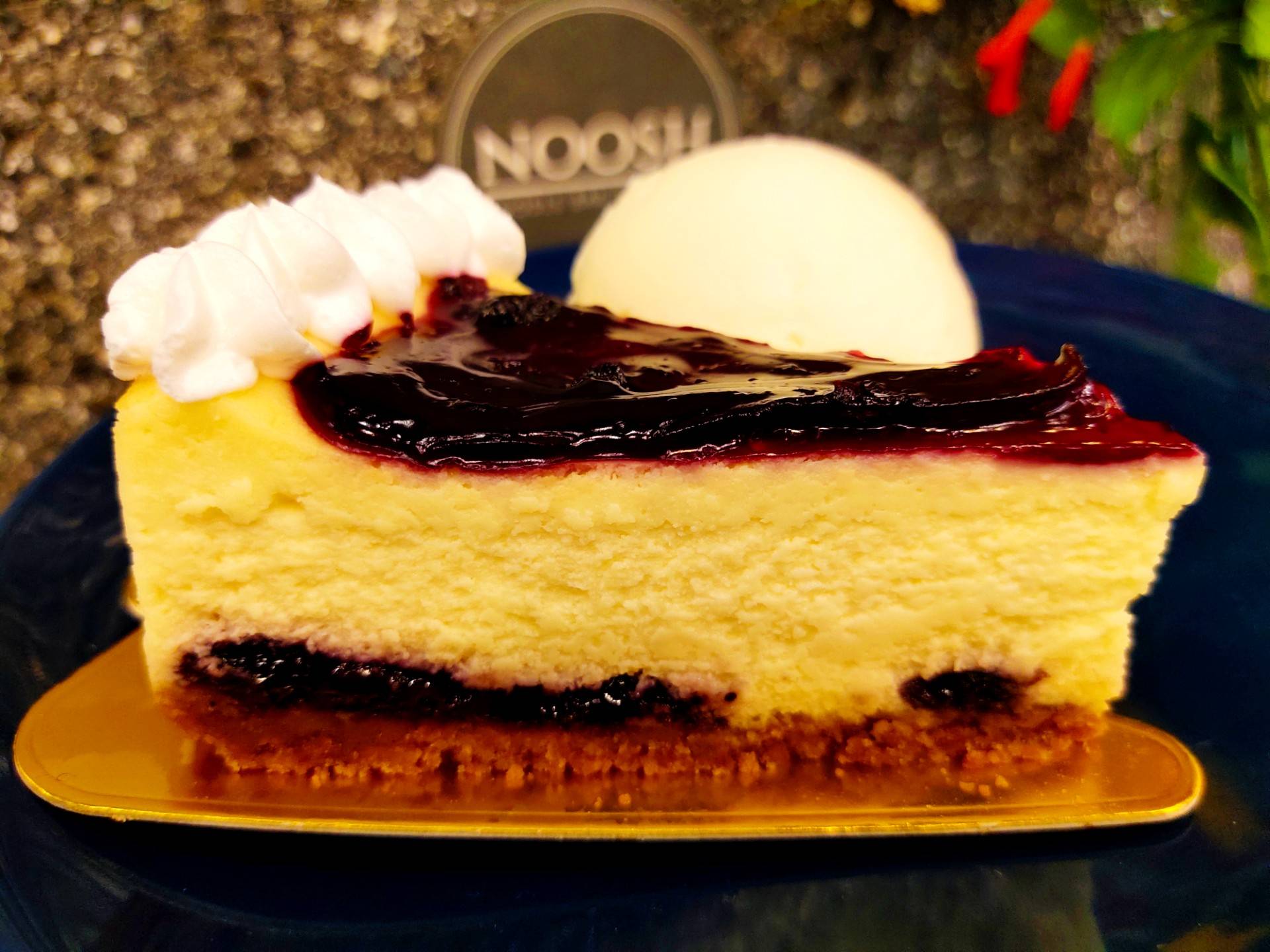 NOOSH COCONUT BLUE LAGOON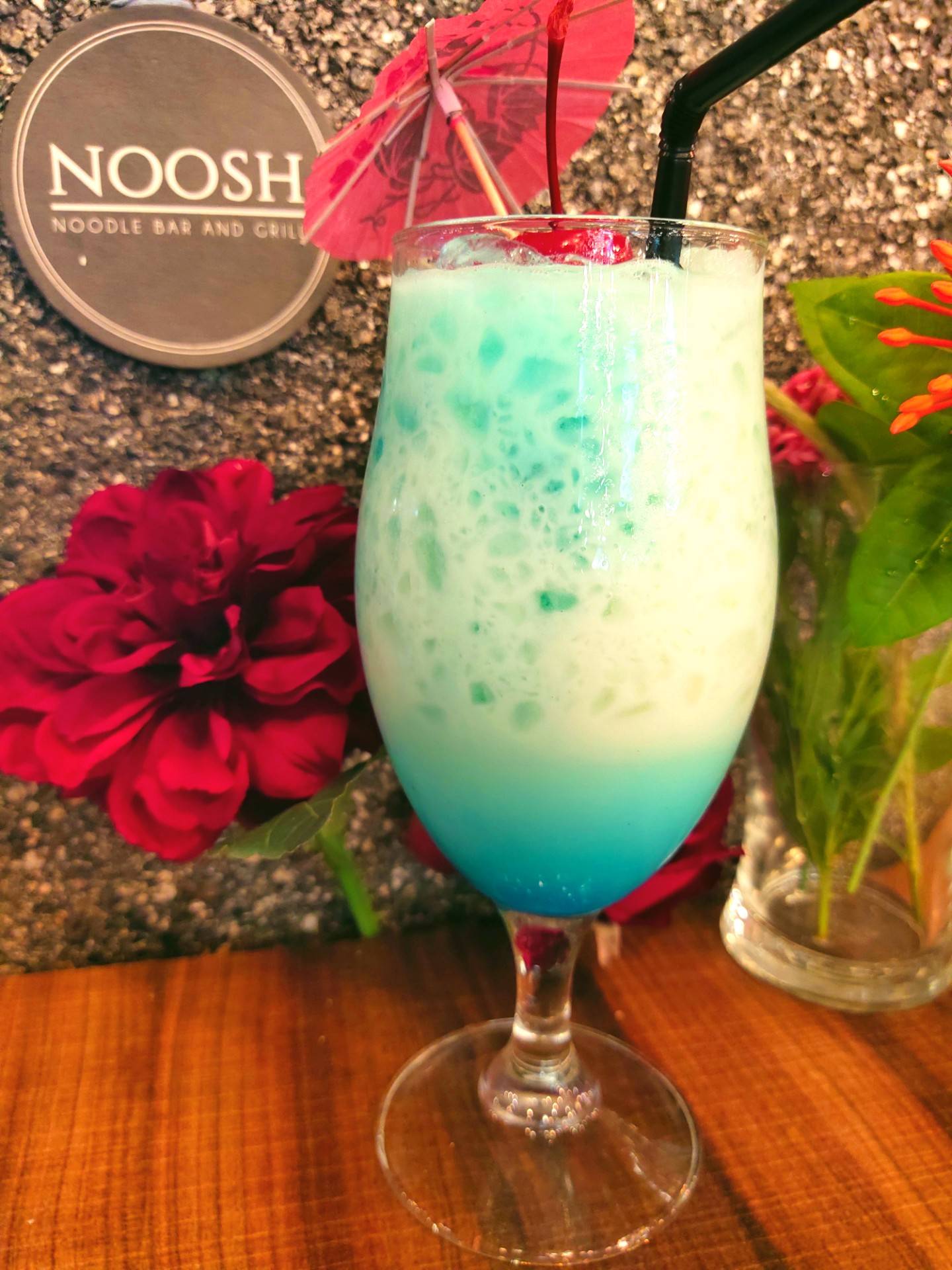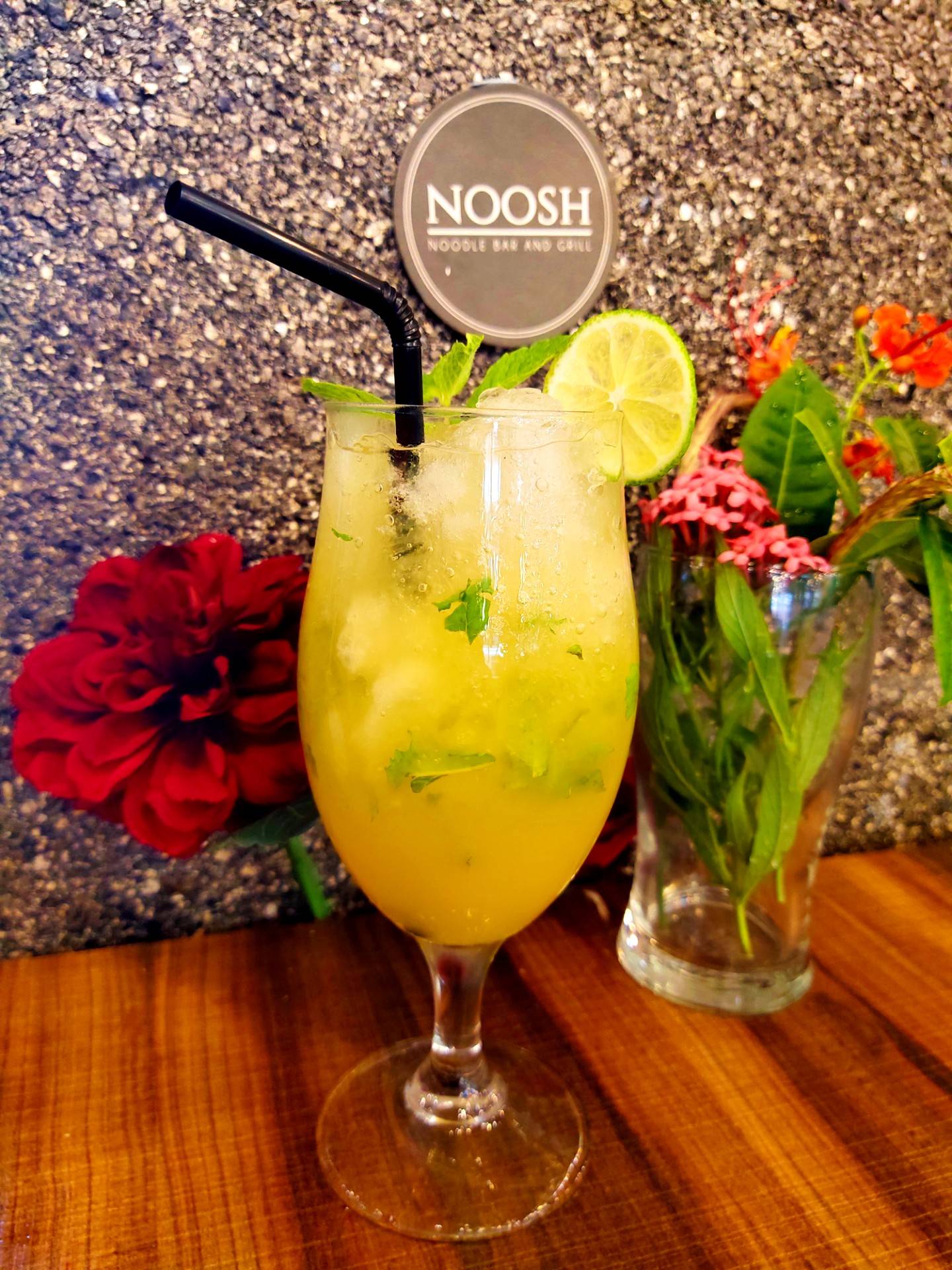 NOOSH CREAMY STRAWBERRY PUNCH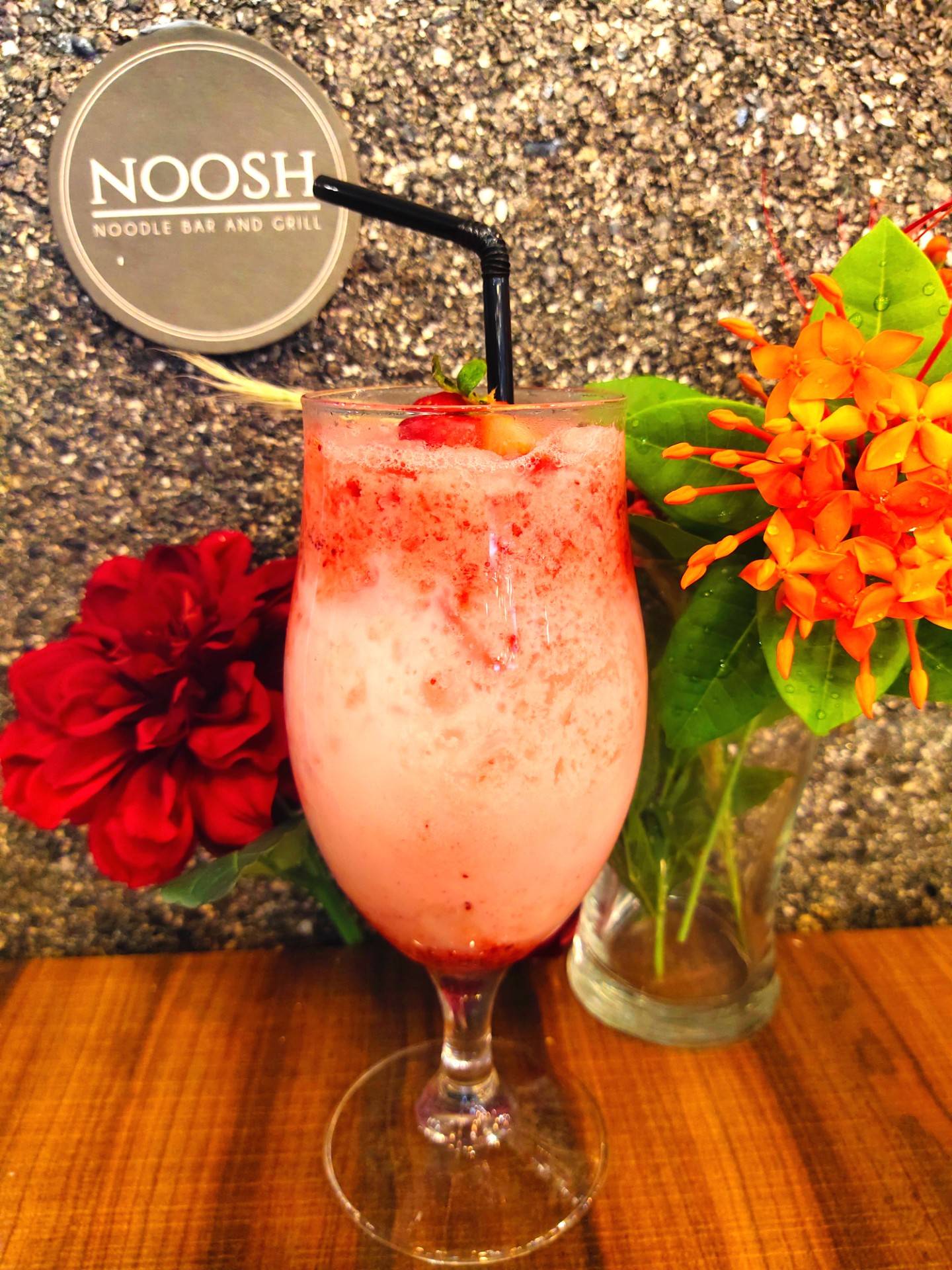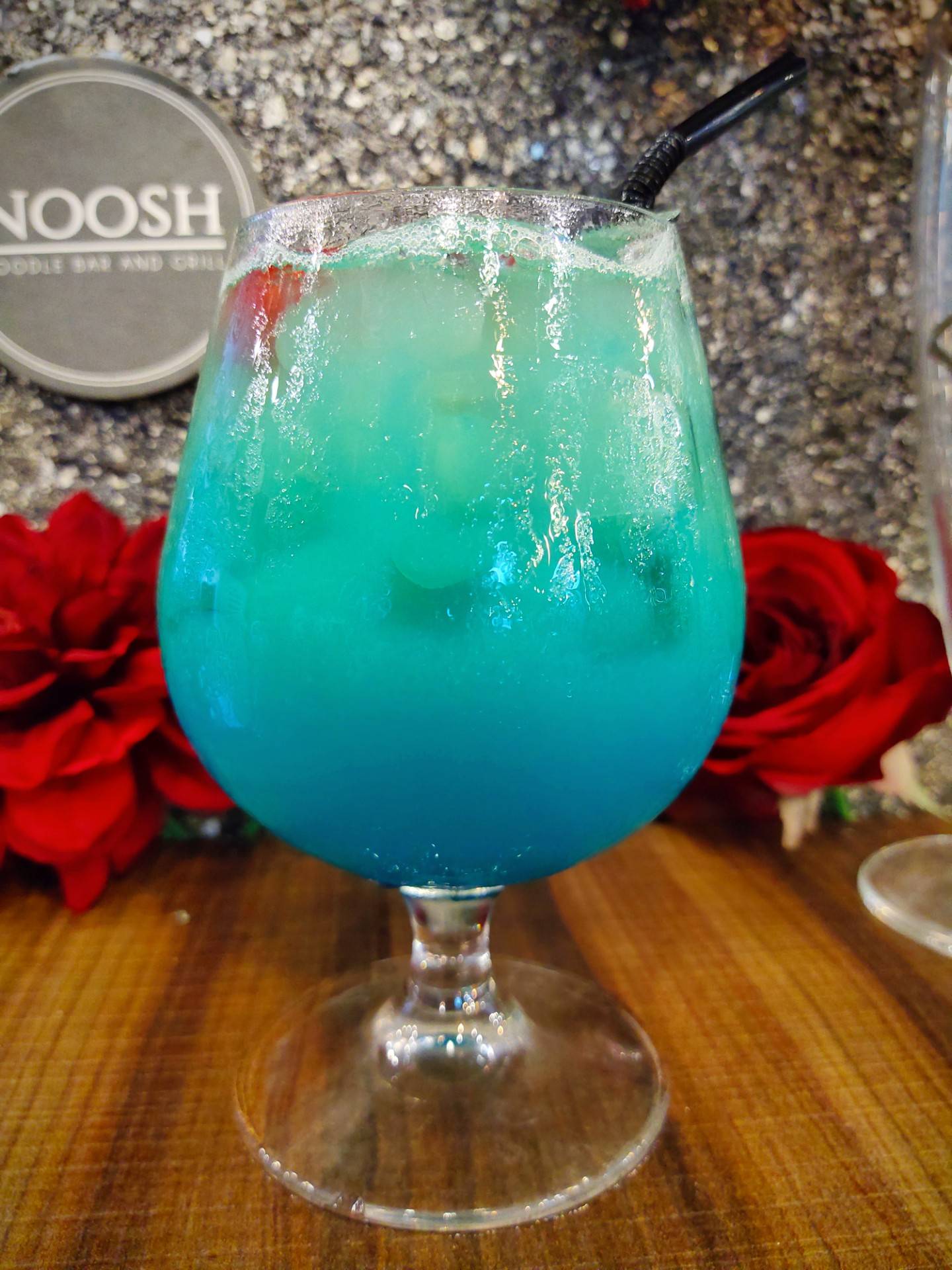 Classic lime soda with grenadine and cherry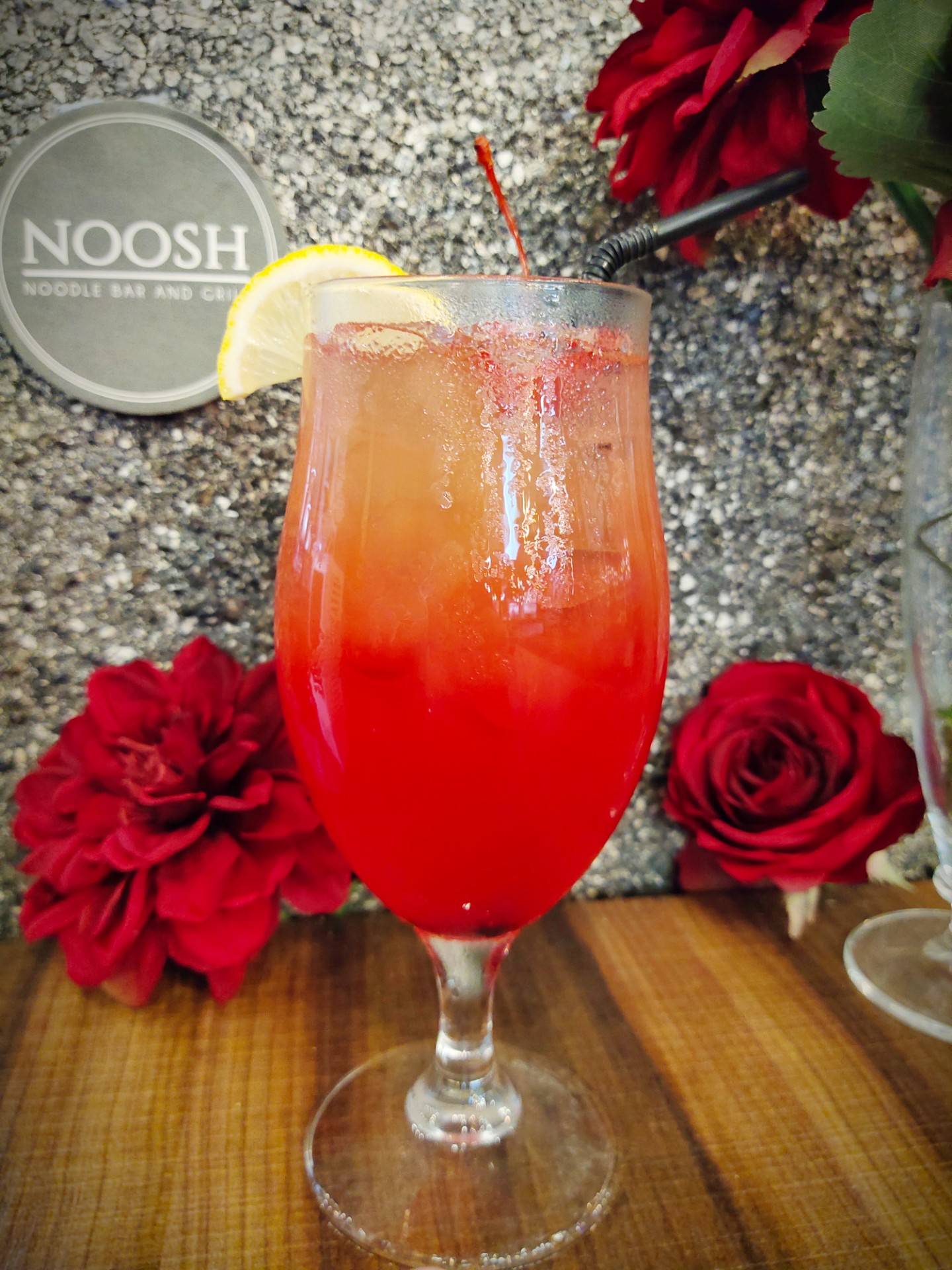 Just good classic lemonade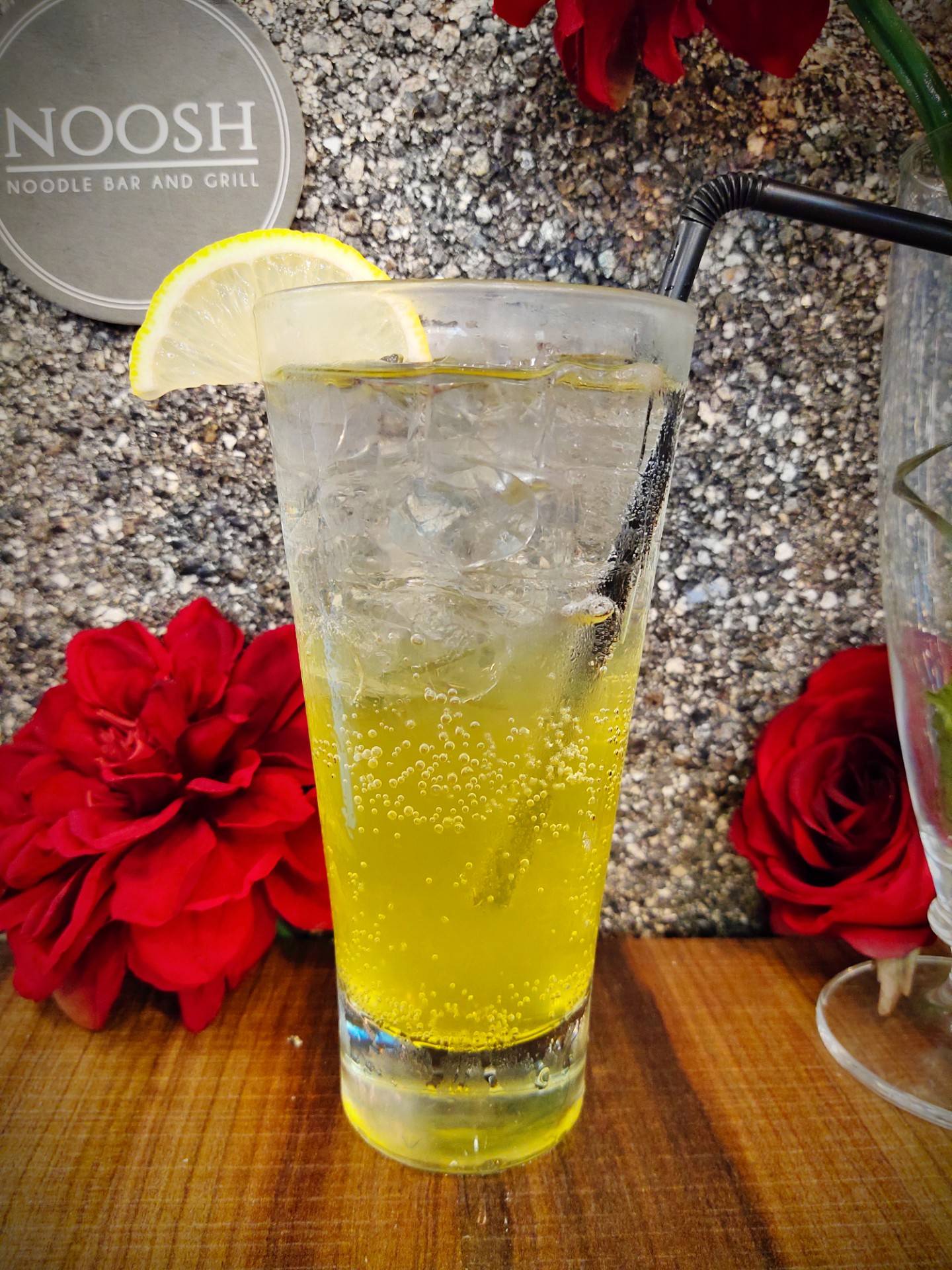 Lychee soda with mint leaves